Once a Knight is Enough
Knight Genealogy
by Laura Knight
~~~
Fratricide: The Murder of Augustus Roberts
by his brother, Jackson Roberts
| | |
| --- | --- |
| Jackson Roberts | |
I was shocked when I encountered the following set of articles about my 2nd great-grandfather, Jackson Roberts, in the collection of newspaper accounts collected by ancestry.com:
September 6, 1859 Macon Telegraph

The Fratricide in Jones

On Tuesday morning last a bloody rencontre took place in Jones county between two brothers, Augustus and Jackson Roberts, which resulted in the death of the former. Jackson Roberts, the slayer, is severely but not mortally wounded in the breast. On Wednesday last a warrant for his arrest, charging him with the murder, was issued by Justice Burdin. Two brothers-in-law, by the name of Baker and Thomas Crib, were also arrested, charged as accessories.

On Thursday last the committing Court, consisting of Thomas S. and John S. Humphries, Esqs., and Justice Burdin, assembled at Roberts' Court Ground, for the purpose of investigating the charge, but on account of the critical condition of Jackson Roberts, the examination was postponed until Friday next. William T. Massey, Esq., and Wm. K. DeGraffenried, Esq., for the prosecution; Isaac Hardeman for the defence. We understand that A. H. Stephens and Washington Poe have been engaged for the defence.
I noted that Jackson Roberts was apparently seriously injured from the encounter, which must have been one heck of an altercation. I've not found any familial connection between the Roberts family and the two "brothers-in-law... Baker and Thomas Crib." I wonder how they figure in the drama? Were they brothers-in-law by a relationship to the wife of Augustus Roberts? I haven't found any such relationship with just a casual search, but there could be something there. Since Boker and Thomas Crib were charged as accessories, one supposes that they were on the side of Jackson Roberts and not Augustus and it appears that the three men must have had a serious issue to settle with Augustus.
A week later:
September 13, 1859 Macon Telegraph

Jackson Roberts Committed

The examination into the case of Jackson Roberts, charged with the murder of his brother in Jones county, on the 30th of August, took place on Friday last. After hearing the evidence, the prisoner was committed to Jail to answer the charge of murder. Justices Thos. S. Humphreys, John S. Humphreys, and Thos. Burdin, presiding.
It seems to me that if there were a legitimate issue at stake in the altercation, such as self-defense, Jackson would not have been charged. So it sure looks like he must have gone after his brother for some reason, with the help of the two "accessories", Augustus fought back, but was killed.
Six months later we learn that the trial apparently took an entire week - and a long week at that!
April 28, 1860 Macon Telegraph

Clinton, April 22, 1860. Mr. Clisby. Jones Superior Court adjourned this morning after a most arduous week of labor, and although it was Sabbath Judge Harris passed sentence upon Jackson Roberts, who had been found guilty of involuntary man slaughter, after a fifty five hours test of muscle and endurance by the Jury that tried the case. His sentence was three years in the Penitentiary.
Involuntary man slaughter which we now write as "involuntary manslaughter" is, essentially, "the act of killing another human being unintentionally".
I wrote to the Clerk of the Jones County Superior Court to inquire if there were any records of the case that would provide details of the testimony. I received a very fast reply from a nice Deputy Clerk as follows:
Ms. Knight,

The images attached to this e-mail are the only documents Jones County Superior Court has on the case of The State of Georgia vs Jackson Roberts from 1859. I did not find any reference to Baker and / or Thomas Crib.

Ginny Vaughn,
Deputy Clerk Jones County Superior Court
There were two images of the same document which consists of the names of the jurors, the verdict, and the sentence.
| | |
| --- | --- |
| | I was impressed that the documents were so quickly found, photographed, and sent to me via email at no charge! Thank you to Ms. Vaughn! |
So, we know nothing from any of the above about why there was such a fierce fight between brothers that resulted in the death of one, and the serious injury of the other. However, while searching for any documentation on Augustus Roberts I could find, I came across the following interesting item from the Savannah, GA "1853 Marshall's Fine Book 42-A", p. 2, Mar 23: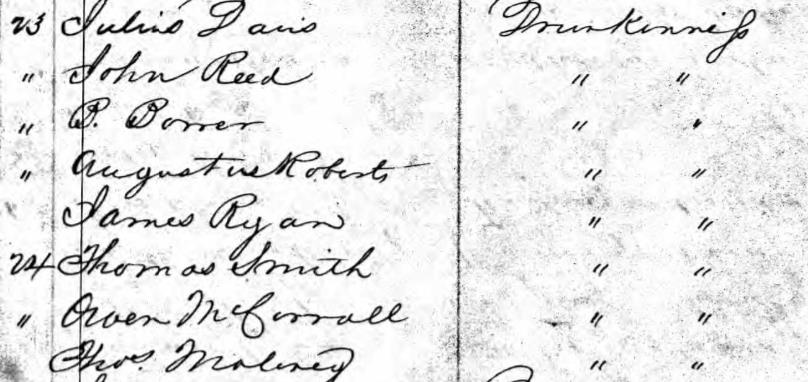 It's not clear if the first batch on the 23rd were all arrested together as a group or if each was arrested separately but this suggests strongly that Augustus Roberts may have been a "mean drunk" and this could have played a part in the fight that got out of hand. (There are some other records for an Augustus Roberts on ancestry.com that clearly belong to a different man, a relation of this Augustus.)
In the Macon Telegraph, Monday, July 11, 1949, p. 10, is the following article about the Roberts Family which tells us a lot about Jackson Roberts after he served his three years in prison; that episode of his life is never mentioned in this article:
Jones County Roberts Family Stages Its First Annual Reunion; 600 Attend

By Sarah C. Paulsen

Gray, July 10 - The finest family reunion of the Jones County Roberts family was held at Robertsville when approximately 600 persons gathered in the grove near the home of E. A. Roberts, all bringing basket lunches.

A two-horse wagon was rolled out for a platform which the speakers used after dinner.

Another reunion, the first, of the descendants of Jack Roberts, was held at the residence of Mrs. Lilah Roberts Staples, near Macon, who is the only living child of the late Mr. Roberts. Five generations of descendants were present at the reunion, which was held at the old home, built in 1808.

Reuben Roberts, grandfather of Jack, founder of the Georgia family, was born in 1750 in Virginia and moved to the Pee Dee River Section in Carolina. He served in the Revolutionary War, and as a veteran was entitled to draw in the land lottery which was held in this county following the war. From the two drawings he received a total of 405 acres of land and Mrs. Staples' home is located on the site of this land. Mr. Roberts died here on Nov. 20, 1843, at the age of 84 years.

His first wife was Miss Margaret Hudson, and children from this union were Luke, William, Reuben, Jim, Henry, Judy, Peggie, Clarrie, Sallie and Agnes. Following her death he married the Widow Strawbridge.

Luke's (Jack's father) first wife was a Miss Haddock and their children were Matilda and Polly. His third wife was Miss Elizabeth Wilder, sister of Jonathan Wilder, who built the first frame houose on the west side of the river in Macon. Their children were William, Greene, Jackson, Augustus, John, Fannie, Peggy, Johanna and Elizabeth.

Mr. Jackson (Jack) Roberts, third son of Luke, was born April 25, 1825 and died Sept 14, 1899 at the age of 74. He married the former Miss Mary Jane Baker on Sept. 4, 1845. Fourteen children resulted from this union and among them were Jack [Walter Jackson], Solomon, Lizzie, John, Shem, Lena, Lula, Oscar, Davis, and Lilah.

Jack was home-loving and built a school house on his land and a church. A preacher, Davis, was the first pastor of the Methodist Church and walked from Clinton to conduct services there. Mr. Roberts was remembered as a person who loved stick candy, which he divided among the colored children on his place, had a distinguished white beard and drove a buggy drawn by a pure white horse. He was thrifty and successful, made friends easily, and his greeting to everyone was "Howdy, howdy, howdy, howdy, howdy." He said, "There is no poor land, it is good and better." And one of his favorite quotes was "There's more in the man than there is in the land." With ingenuity, determination and hard work, he made money rapidly.

At one time the descendants of Luke Roberts owned all lands from Cross Roads at Pitts Chapel to within five miles of Macon, extending on either side of the Garrison Road.

In usage, during the reunion, was the oblong, hand-made dining table of walnut with cut nails which has been in the family for generations. The walnut was sawed on the Roberts property and the table was spread with a variety of tempting foods.

Also in use Sunday was the fly fan, an ancient and useful family relic. Made of iron, the base of the fan touches either the floor or ground [the table was placed under the trees Sunday] and extends upward through the table.

A special hole was cut in the table for the device which will accommodate four fans. It is operated with the foot, as a treadle sewing machine, and relatives laugh and say that the late Shem [C. Y. Roberts] was the only person who could operate the fan and eat at the same time. All of the tablecloths used in the old days had holes cut in them which Mrs. Roberts worked with the button-hole stitch.

The original brick chimney [1808] still stands and bricks for construction were made on the place. A hole was dug in the red clay, water added to it, and a mule trampled it until the mixture reached the proper consistency, then it was placed in molds and sun dried. Although Mr. Jack Roberts had two fish ponds during his lifetime, one for goldfish, another for other varieties, he let no one fish in them and bought his "eating" fish in Macon.

Family descendants were present from all over, including four countries, Japan, Germany, Russia and the United States, and about 80 names were recorded in the guest register. The same register was used in 1908. Each guest Sunday wore a tag indicating name and lineage; Judge Olin Hatchcock, of Atlanta, returned thanks before dinner.

The Roberts clan, one of the most prominent and numerous families, in this county, does indeed have an interesting history. They have set a wonderful example of industry and thrift and have always had the fine reputation that stems from hard work and good management. And so their history, which has been spun over a web of days, will continue to flourish for generations.

Present were the hostess, Mrs. Lilah R. Staples, her adopted family, Mr. and Mrs. Earle Jones, Miss Lula Lee Jones and Earle Jones Jr., who make their home with her; Major and Mrs. Carson L. Hilton and son of Hiltonia, recently returned from Japan; Mrs. L. W. Shaw, Moscow, Russia; Mr. and Mrs. Francis Blanks and daughter, Frankfort Germany; Mr. and Mrs. Otis Blanks, Jerry J, J. Randolph, Elizabeth W., Jerry Philip, Virginia Lamar, J. Randolph Blanks Jr.; Mr. and Mrs. Sam P. Lambach, Palmer, Sam Jr. and Louise Lambach; Mrs. Mary Roberts Rau; Carolyn and Mary J Hays; Mr. and Mrs. Yancy Roberts Sr.; Mr. and Mrs. C. Y. Roberts Jr. and son; Emily Rau Smith, Bridges Smith Sr., Bridges Smith Jr., Steve, Allene and Mike Smith; Mr. and Mrs. Russell Hays; Miss Louise Rau; Mr. and Mrs. Thurman Massengill and daughters, Miss Ruth Allen Rau, Mr. and Mrs. Louis Rau and daughter, Livyan S. Rau; M. C. Balkcom; Mr. and Mrs. Grady Roberts, all of Macon; Mr. and Mrs. Joseph H. Brooks; Mrs. Roberta R. Gustine; Mr. and Mrs, Jette Roberts and Harriet, of Gray; Mr. and Mrs. J. A. Pursley and sons, of Haddock; Mr. and Mrs. Ed Roberts, Gainesville, Fla; Mrs. Lola Roberts Chapman; Mr. and Mrs. Bob Chapman and Martha Story; Judge and Mrs. Olin Hatchcock, Miss Geraldine Chapman, Atlanta; Mr. and Mrs. William Mettauer Emerson and Bunny Underwood of Bolingbroke; Mr. and Mrs. Louis Roberts Blanks and Ramsey of Signal Mountain, Tenn.; Mr. and Mrs. S. W. Shaw, Tampa, Fla; Mr. and Mrs. L. A. Wagner, South Arlington, VA.
The images of the reunion article below are high resolution so you can download and enlarge them for reading; I've constrained the size so things will fit. It was scanned in two, overlapping parts because it was too large to fit the scanning surface.
In the end, we'll never know what happened on that terrible day when Augustus Roberts died. We can imagine that the event scarred Jackson Roberts and it appears that he spent the rest of his life atoning. His son, Walter Jackson "Jack" Roberts, was my great-grandfather, father of my grandmother, Reba Roberts Knight.
Here is a photo of Walter Jackson Roberts, son of the subject of this article, and his bride, Martha Emma Bryant, probably on their wedding day: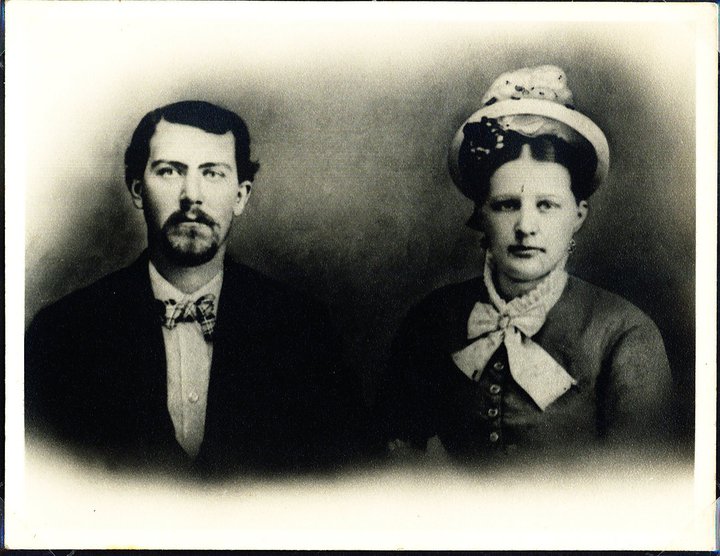 Below is a photo of Walter Jackson Roberts' family in a high resolution scan of a small photo in my possession. It was probably taken about 1895 or so. My grandmother is the little girl in white standing beside her mother on the right.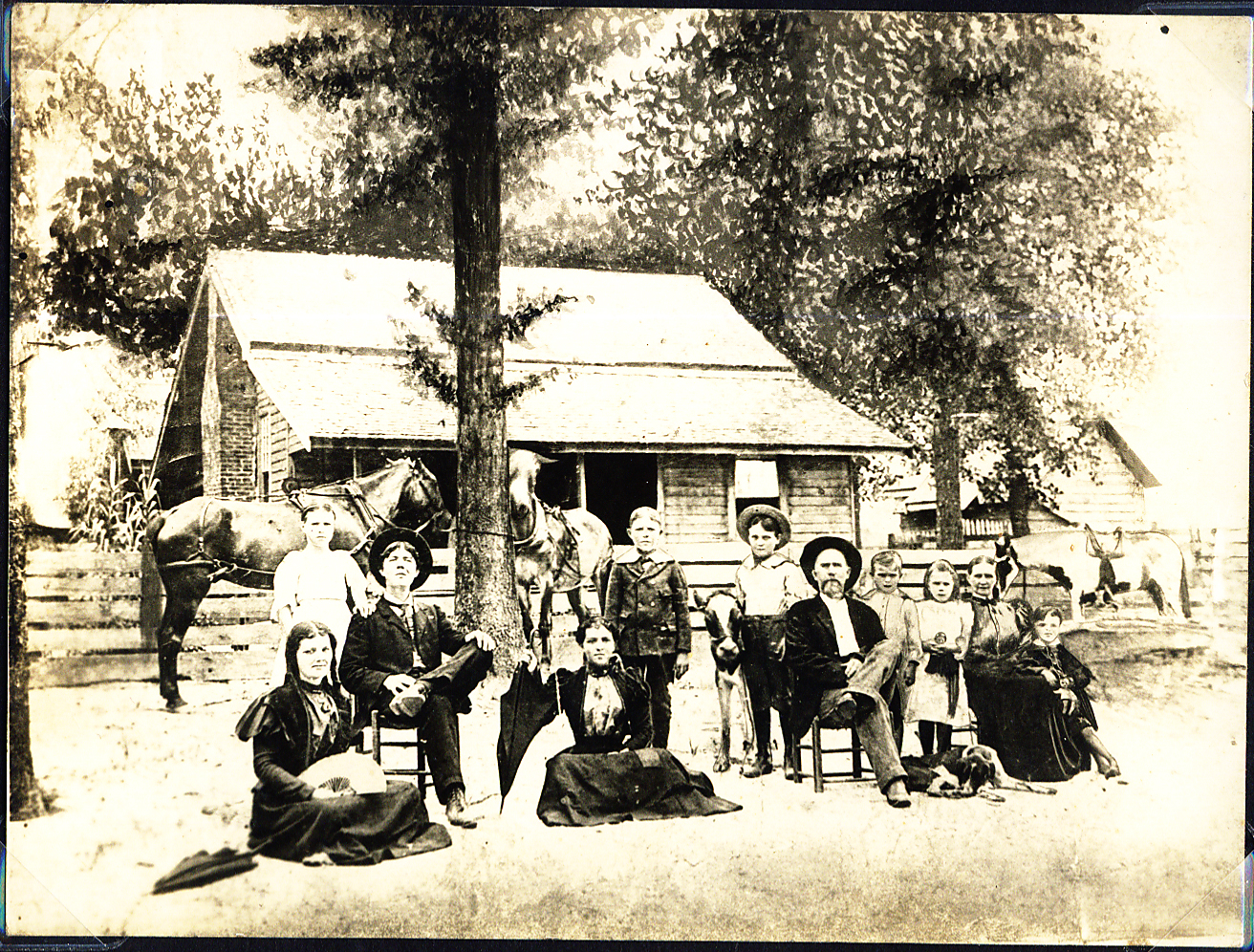 In the above photo, the girl on the left holding the fan is "Fannie" Roberts. Fannie married a German Industrialist, Christoph Albert Wandel who is in the next photo with his brother, on a visit to Georgia where he met Fannie: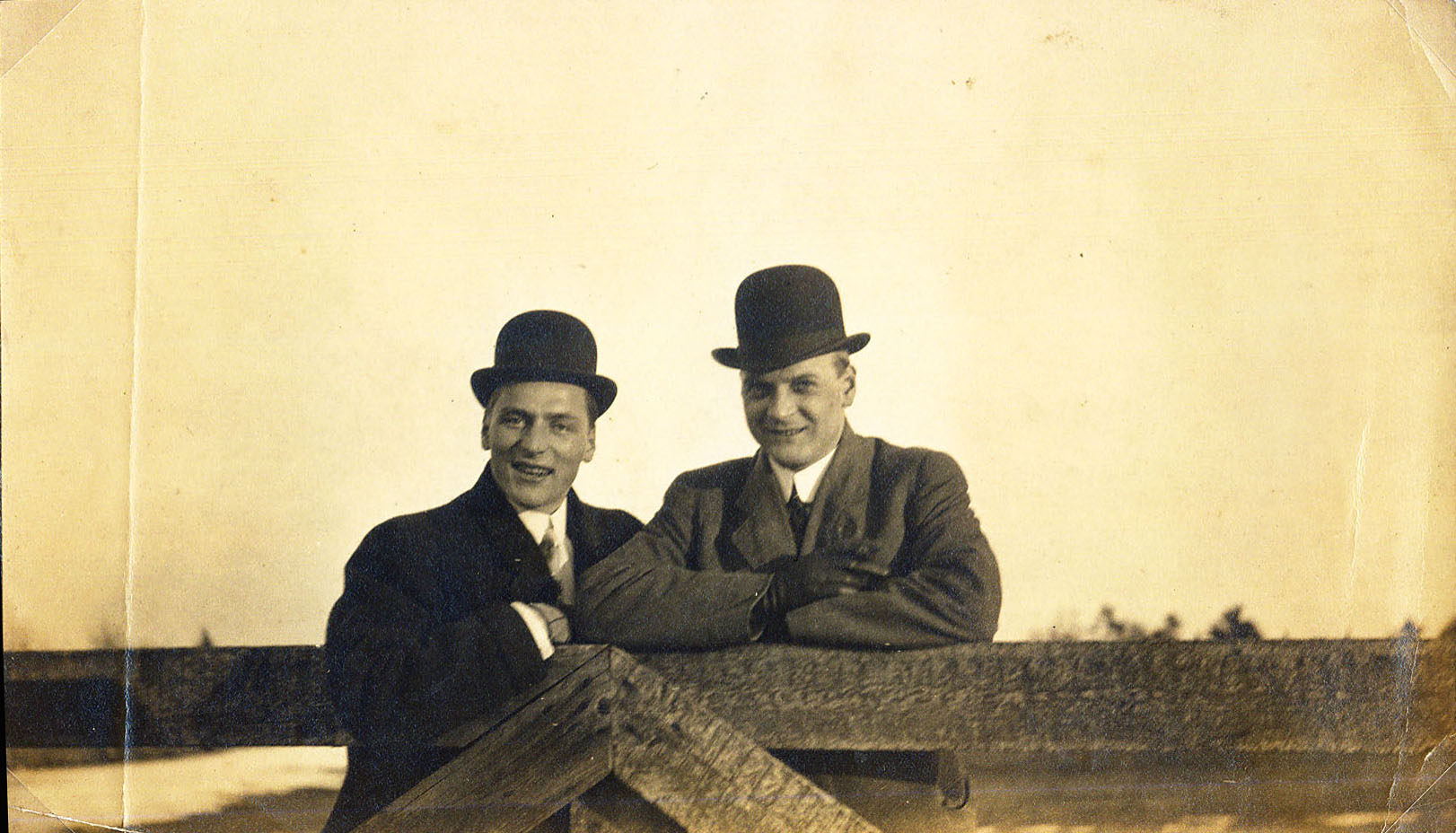 Fannie went off to Germany with Albert (as he was called) and, unfortunately, died there not long after giving birth.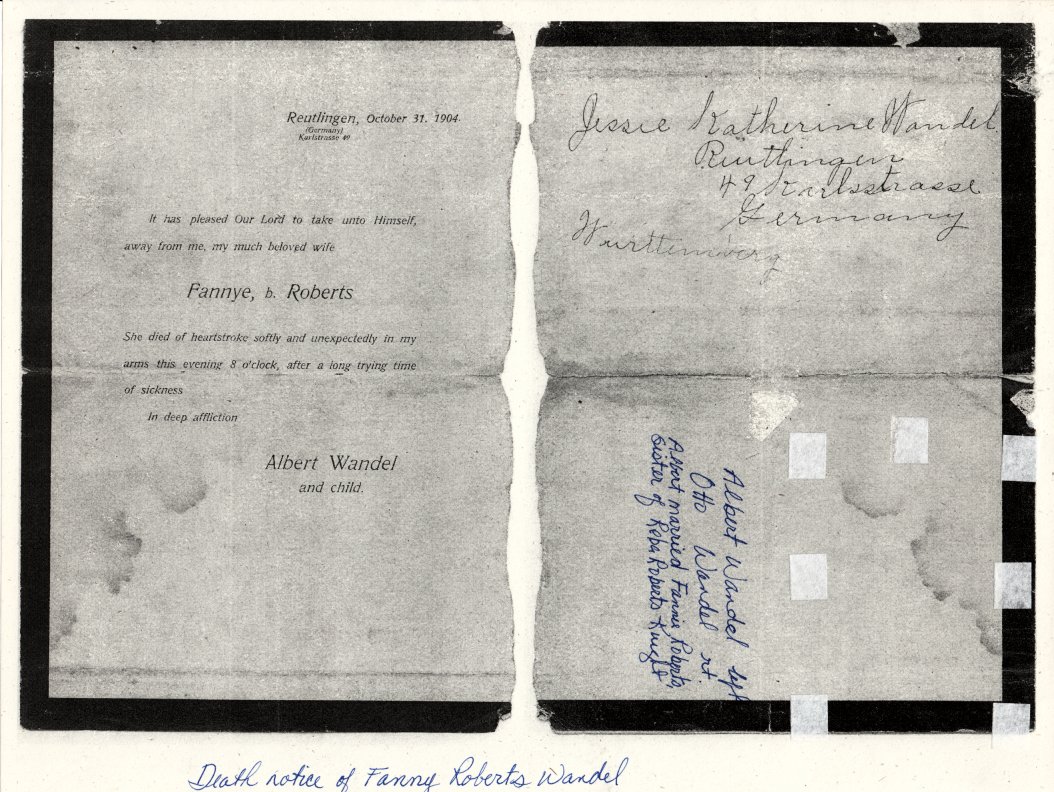 The daughter of Albert and Fannye (as he spelled it) was Jessie Katherine Wandel. She was living with her paternal uncle, Otto Wandel in Walpole Massachusetts in 1910. In 1920, she was living in Macon, GA, with her maternal uncle, Cleo P. Roberts. In 1928, she married Carl E. Menneken and they were living in Miami Beach in 1930. She filed a petition for naturalization in 1940. Her husband, Carl, died in 1975 in Monterey, California, and in 1988, Jessie created "The Carl E. and Jessie W. Menneken Faculty Award for Excellence"at Naval Postgraduate School, California." Carl E. Menneken was the first Dean of Research at the Naval Postgraduate School. He joined the faculty during World War II and served as a faculty leader in the school's development of Navy-oriented scientific research.
Jessie died in 1993 in Monterey, CA. They had no surviving children.
Below is a recent photo of the Wandel Graves in Germany and on the right is a close-up of the panel that lists Fanny Wandel nee Roberts. It must have been a very strange journey for a Georgia girl, daughter of pioneers, to the lap of luxury in Germany.
For me, it has been an equally strange journey, from Florida to France where I now live.
My Grandmother, Reba Roberts Knight.