Once a Knight is Enough
Knight Genealogy
by Laura Knight
~~~
Pearce Family of Florida
| | |
| --- | --- |
| | |
| I took this photo myself though it was so bright the writing did not show very well. I had to play with the contrast and such to bring it up, though that meant I had to pretty much eliminate the sunny, grassy background. Very peaceful spot. | This photograph was left to me by my grandmother, Lucille Young Meadows. Mary Jane Mizell Pearce was her grandmother. It seems that since I first posted it to the internet some years ago, it has appeared in many places. Of course, others could have copies of it. I'd like to hear from any who do. My grandmother knew her as "Grandma Pearce" which means she must have died much later than suggestions I've seen as my grandmother was born in 1899 and she said that her grandmother died when she was about 5 or 6. |
| | |
| Near the grave of John Pearce (photo above), is the grave of his brother, Rev. Levi Pearce. The image is large enough to download and enlarge. I've constrained the size to fit. | Almost adjacent to the grave of Rev. Levi Pearce is the double grave of his two wives: Mary Jane Hooker and "Louiza Hollingsworth Rogers". The image is large enough to download and enlarge. |
The family that the following sketch is about is that of the nephew of the above John Pearce and Mary Jane Mizell Pearce above. The above John Pearce was brother to Levi Pearce, who was the father of John Mizell Pearce, the subject of this sketch.
John Mizell Pearce Family of FL
Capt. John Mizell Pearce, founder of the Pearce family in the Kissimmee River Valley, was born Nov. 17, 1834, in Columbia County, Florida, the eldest child of Levi and Mary Jane (Hooker) Pearce.
John M. Pearce came with his parents to Hillsborough County during the 1840's where they settled in the area that later became Polk County, near Peas Creek. On Feb. 11, 1858, John M. Pearce was married to Martha Ann Lanier, daughter of Luke Pridgen and Mary B. (Williams) Lanier. She was born in Georgia, Sept. 11, 1838. John M. and Martha Ann (Lanier) Pearce had the following children:
1. Mary Pearce, born 1858.
2. Dock Pearce, born 1860; died 1926; married Mary Roberts
3. Laura Pearce, born Sept. 1861; died ca. 1910; married 1st— Finley Gillespie; 2nd—Robert Henry Alderman, Aug. 11, 1888.
4. Frank Bartow Pearce, born Dec. 7,1863; died June 20, 1928; married Sarah Rebecca Roberts
5. William Sidney Pearce, born Jan. 3,1866; died Feb. 27, 1944; married Meroba Virginia Hollingsworth, May 13, 1894.
6. Robert Lee Pearce, born Oct. 20, 1867; died July 26, 1943; married Martha Walker, Nov. 3,1892.
7. Virginia Pearce, born Dec. 18, 1869; died Jan. 3,1936; married Jacob C. Morgan.
8. Susan Dollie Pearce, born about 1870; married 1st— John W. Peeples; 2nd — John David Whaley.
9. Mustow Givens Pearce, born Sept. 5, 1875; married John Wroland Lamb Aug. 20, 1898.
10. Walter James Pearce, born july 26, 1880; died Jan. 25, 1939; married Helen Josephine Addison, July 21, 1900.
John Mizell Pearce was an active participant in the Third Seminole War, 1855-58, serving in several volunteer companies during that conflict. At one time he served as a scout in the Kissimmee valley area surveying Indian activities.
When the Civil War was underway, Mr. Pearce served the Confederate cause in Capt. F. A. Hendry's company of special cavalry, a part of Munnerlyn's Cattle Guard Battalion.
During the years after the Civil War, John Mizell Pearce established a large and prosperous cattle business. He was headquartered at Fort Meade until 1875 when he decided to move his family to the Kissimmee River and settle at Fort Basinger on the western side of the river. There he built a log house and set up a ferry operation to serve travelers going across the river.
Capt. Pearce was the last owner of the steamboat Mary Belle which operated along the Kissimmee River until it was sunk about 1884. John M. Pearce also served as Deputy Sheriff for the eastern part of DeSoto County, and was for a number of years the only law enforcement officer in the lower Kissimmee River Valley. When DeSoto County was established in 1887, Capt. Pearce obtained a license to continue operation of his ferry. It was granted Oct. 3, 1887 and contained the following maximum rates: Footman, $.15 Man and horse, $.25 Horse and Buggy or other single team, $.50 Double team, $.75 One yoke of oxen and cart or wagon, $.40 Two yoke of oxen and cart or wagon, $.60 Each additional yoke, $.15; Each additional animal, $.05.
Capt. Pearce continued his extensive cattle operations until his death on Sept. 28, 1897, at Fort Basinger. His widow then constructed a handsome home overlooking the Kissimmee River which is today occupied by their granddaughter, Mrs. Edna Pearce Lockett. Martha (Mizell) Pearce died Sept. 27, 1911. Both Capt. and Mrs. Pearce are buried in a small cemetery on the Pearce property.
Capt. Pearce's son, William Sidney Pearce, named for the Southern poet and kinsman Sidney Lanier, continued the family cattle business. He used the P4 brand for his cattle and his daughter Edna continues the use of this brand. W. S. Pearce also was instrumental in the establishment of a school at Fort Basinger. He built the first bridge across the Kissimmee River from Fort Basinger to Basinger in 1916. The bridge which currently spans the river is named for him. William Sidney Pearce died in 1944.
In 1976, in honor of the nation's bicentennial, Edna Pearce Lockett had an attractive sign placed at the west entrance to Fort Basinger. On the sign are portraits of Zachary Taylor and Billy Bow-legs III. The sign was erected in honor of Captain John Mizell Pearce.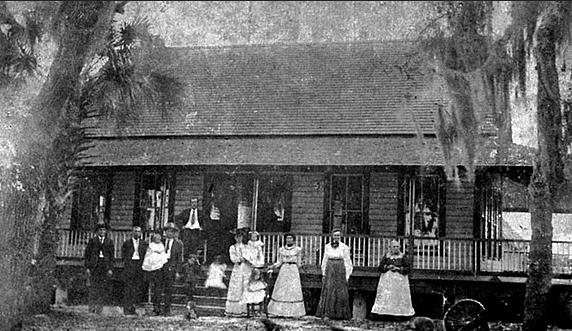 Pearce home, Martha Lanier Pearce on extreme right