Once a Knight is Enough
Knight Genealogy
by Laura Knight
Christopher Alleyn, Knight is not a Knight!
There is a particular little problem I've encountered in online genealogy: that of Christopher Alleyn, Knight, whose children appear to bear the surname "Knight", though that could just be an error on the part of ancestry.com and its parent organization. Nevertheless, in searches for Knights on ancestry I've collected the following "records" with screen shots of the "find spots" on ancestry.com:
1563 – Feb 23 – Kent Ightham – Bap – Francis Knight - d/o Christopher Aleyne Knight.

1565 – May 7 – Kent Ightham – Bap – Dorothy Knight - d/o Christopher Aleyne Knight

1567 – Nov 16 – Kent Ightham – Bap – Richard Knight - s/o Christopher Aleyne Knight

1568 – Jan 20 – Kent Ightham – Bap – John Knight - s/o Christopher Aleyne Knight

1570 – Aug 7 – Kent Ightham – Bap – Christopher Knight - s/o Christopher Aleyne Knight

1570 – Oct 20 – Kent Ightham – Bap – Elizabeth Knight – d/o Christopher Aleyne Knight
Aside from the fact that the only way there could be two baptisms in the same year, two months apart, would be if there were twins baptized separately, what we see is that, clearly, ancestry.com has these individuals listed as Knights, as in Knight family. There is no parish registry image against which to check the claims of ancestry.com and I've searched the Tyler Index, which usually provides at least transcript images, and there is nothing at all for Ightham, Kent. What is there as a reference is "FHL Film Number: 992524" and the following:
Source Information
Ancestry.com. England, Select Births and Christenings, 1538-1975 [database on-line]. Provo, UT, USA: Ancestry.com Operations, Inc., 2014.
Original data: England, Births and Christenings, 1538-1975. Salt Lake City, Utah: FamilySearch, 2013.
Now, that's all fine and dandy to have ancestry.com as the source, but really, what is the ULTIMATE source here? Was there a parish registry? Why isn't it mentioned? Or were these records simply derived from family trees created by different individuals, vacuumed up by genealogy websites and resold to the public, as it seems many ancestry.com records are? And if people have these people in their family trees, on what basis to they justify that? Where are the REAL records?!
Just a little searching reveals that something is very wrong with this picture. If the individuals in question truly carried the surname "Knight", which I seriously doubt, then they adopted it, or were given it by their father who was not a member of any Knight family (and I would still like to see the RECORDS). The following is the bio of Christopher Alleyn, Knight, from the History of Parliament:
Christopher Alleyn, Knight of Ightham Mote, Kent, West Drayton, Mdx. and London

Offices Held:
1561 – JP Kent
1563 - MP for New Romney, Kent

Family: illegit. s. of Sir John Alleyn, ld. mayor of London. m. Audrey (d.1587), da. of William†, 1st Baron Paget, 6s. 2da. Kntd. 1553.

Alleyn—described in one of his father's inquisitions post mortem as Christopher Gyllet alias Carleton alias Alleyn—was the elder of two illegitimate sons of a London mercer who died in 1545, seised of lands in Derbyshire, Kent, Lincolnshire, Middlesex, Northamptonshire, Nottinghamshire and Yorkshire, as well as in the City.

Alleyn's father settled on him a considerable amount of real estate scattered widely about the country, and, under his father's will he and his brother and sister were allotted between them half the remainder of their father's moveables. Alleyn was thus wealthy enough to make a fortunate marriage into the Paget family, whose star was in the ascendant under Mary. Alleyn himself was knighted at Westminster the day after her coronation.

In 1563 he was returned, whether through his own local influence or that of the warden of the Cinque Ports has not been ascertained, for the borough of New Romney, leaving no mark on the surviving records of the House.

In 1564 he was conformable in religion, allowed to continue on the commission of the peace for Kent, and in the following year was among the gentlemen commanded by the Queen to attend upon the King of Sweden's daughter, wife of the Marquis of Baden, when she arrived in England. But he 'kept a vile, papistical house' and his name is on a list drawn up in the interests of Mary Queen of Scots in 1574.

In September 1585 a messenger from his brother-in-law, Lord Paget, arrived at his house and subsequently left with Alleyn's eldest son Charles. As a result, Alleyn's house was searched, his servants and others questioned and Lady Alleyn's chamber searched for 'relics'.

Alleyn died 24 Feb. 1586 and was buried at Ightham. No will has been found. His widow was listed as a recusant in 1587, the year of her death. The son Charles sold the Mote in 1591.

(P.W. Hasler (1981)The History of Parliament: the House of Commons 1558-1603, ed. Boydell and Brewer)
Note that above it says that he had 6 sons and 2 daughters. So far, I've only found 6 children on ancestry.com that I've listed above, 3 sons and 3 daughters. We are missing 3 sons and have 1 too many daughters according to the History of Parliament. We are most definitely missing the son, Charles, mentioned in the HoP bio.
Looking for other bits of evidence about Christopher Alleyn AKA Gyllet AKA Carleton (were these names his mother used?), I found another couple of bits buried in texts about a location and a house:
CHURCH GRESLEY, is a scattered village and township, on the Leicestershire border, 5 miles S.E. by S. form Burton - on - Trent, and 5 miles W. by N. from Ashby - de - la - Zouch, contains 1,075 acres of land, and in 1851 had 258 houses, and 1,257 inhabitants, of whom 655 were males, and 602 females; rateable value £2,890. The principal land owners are, the Marquis of Hastings, Lord Tynemouth, S. P. Wolverstone, Esq., and the Rev. Charles Williams, of Gedling, Nottinghamshire, who is also lord of the manor.

The Church, dedicated to St. Mary and St. George, is an ancient stone edifice, with low tower and three bells, built in the reign of Henry I, by Nigel de Gresley, who founded here a priory of Austin monks, and dedicated it to St. Mary and. St. Peter. It was endowed with lands chiefly in this parish, valued at the dissolution at £39 13s. 8d. Of this building which joined the parish church, there are no remains.
A slightly different account tells a slightly different story about the church described in the previous paragraph:
"A priory of Augustinian canons was founded at Gresley in the reign of Henry I, by William de Gresley, son of Nigel de Stafford. It was suppressed in 1536 in the Dissolution of the Monasteries. … The tower has a ring of six bells. The fourth bell was cast by Henry Oldfield of Nottingham. Its date is unknown, but is known that Oldfield was casting bells between 1590 and 1620. George Oldfield of Nottingham cast the fifth and tenor bells in 1639. John Taylor & Co of Loughborough cast or recast the second and third bells in 1958 and cast the present treble bell in 1991.("Church Gresley". Key to English Place-Names. University of Nottingham. pp. 56-58; Dawson, George (25 October 2010). "Church Gresley S George & S Mary". Dove's Guide for Church Bell Ringers.))
So, the sources war with one another on details and I guess the bell ringers ought to know! Back to the Church Gresley article:
In 1842, a gallery was erected in the church, at a cost of £70, raised by subscription. Here are some ancient monuments to the Aleyne and Gresley families.

The living is a perpetual curacy, valued in the King's books at £5 16s. 8d., now £108, has been augmented with £200 benefactions, £800 Queen Anne's bounty, and £1300 parliamentary grant. The Rev. George Wood Lloyd, D.D., patron and incumbent, for whom the Rev. George Lloyd, M.A., officiates.

King Henry VIII. granted the site of the priory in 1543 to Henry Criche; in the year 1556, Sir Christopher Aleyne, Knight, purchased this estate, with the manor of Church Gresley, of the Seymours. It was afterwards in the Meynells, of whom it was purchased about the year 1775, by Sir Nigel Gresley, Bart.

From another source we read pretty much the same story told in slightly different words:

DRAKELOW HALL, GRESLEY HALL AND GRESLEY CHURCH
The site of the earliest mansion or castle at Drakelow is unknown, but there is evidence of an early structure at the junction of the Walton and Rosliston roads. The site of the moat is clearly visible and it enclosed an area measuring 75 yards by 75 yards. This site was outside Drakelow Park, which was enclosed at a much later date. Excavation would probably reveal traces of foundations of a structure which may have been built by William de Gresley on his return from Castle Gresley in 1201. […]

Concerning the late hall in Drakelow Park, Sir Robert Gresley (eleventh baronet) stated that the date of foundation of this structure was not known, nor was it easy to determine from the available evidence. Described in the sale catalogue as 'Elizabethan', it may have contained some earlier work, but during successive centuries considerable alterations and improvements had been effected [….]

On the dissolution of Gresley Priory in 1543 the buildings were sold to Henry Criche, a speculator in monastic properties. Thirteen years later (in 1556) they were purchased by Sir Christopher Alleyne, son of Sir John Alleyne, twice Lord Mayor of London. Sir Christopher, who had property in Kent, married a daughter of Sir William Paget, who had acquired the monastic properties of Burton Abbey, and possibly this influenced his purchase of Gresley Priory.

He pulled down the Priory buildings, except for the church, and used the material to build a residence known as Gresley Hall. There is no foundation for the belief that the Hall was connected to the Priory by an underground passage.

It would appear the Hall was rebuilt in the Flemish style in the early 18th century and it has some interesting architectural features which have been carefully preserved.

On the death of Samuel Alleyne in 1734 the property passed into the possession of the Meynell family. It was purchased by Sir Nigel Gresley in 1775 and the outbuildings were converted into a pottery in 1794. Gresley Hall was sold by Sir Roger Gresley in 1828 and was converted into a farmhouse and subsequently became a tenement building.

After changing hands several times it was purchased by the National Coal Board in 1953 and converted into a Miners' Welfare Club. In 1957 the premises were extended to cater for five collieries in the district. (Ref.)
The following are a couple of old photos of the place, obviously renovated a time or two, assuming it is the same house built by Christopher Alleyn. Check out the studly dudes in their plus-fours!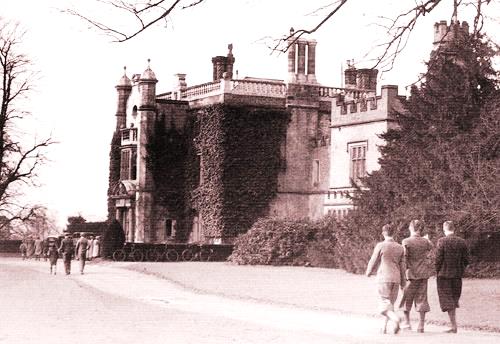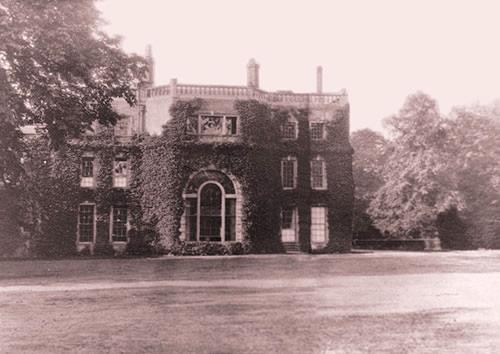 In the end, I still don't know for sure if his children actually went by the name "Knight" or not and if so, are their descendants known as Knights today? There is only ancestry.com as the source for this and it doesn't look very reliable in this case (not to mention many other instances I've found!)
If anybody has any sourced data images on this, I would appreciate them. But for the time being, I would seriously discourage any use of this family in Knight Genealogy.