Once a Knight is Enough
Knight Genealogy Introduction
by Laura Knight
Looking for Capt. Peter Knight
The image of Capt. Peter Knight's will below is high resolution - rather large. You can save it to your computer and enlarge and read it closely.
Image of the Will of Capt. Peter Knight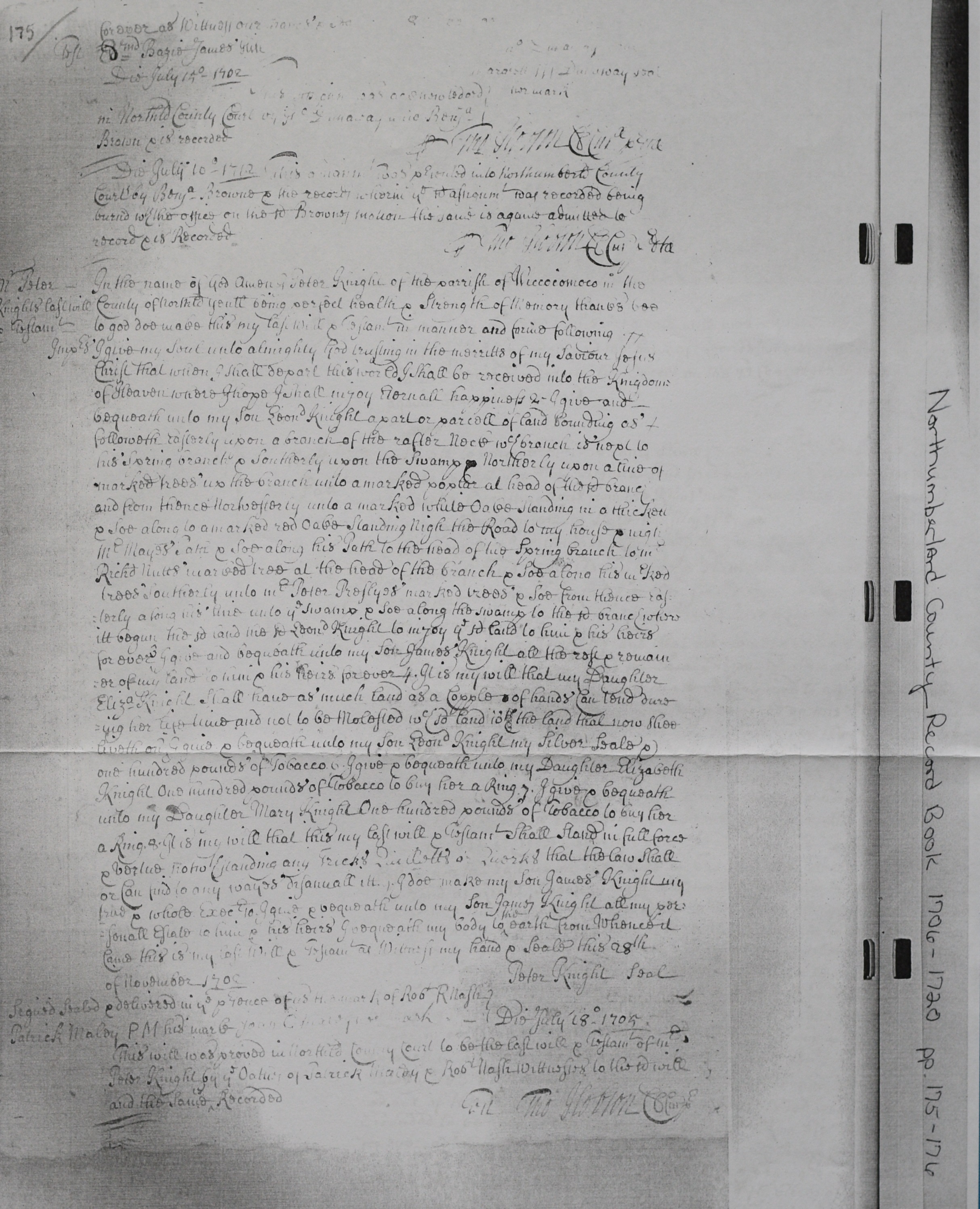 Note: In these pages, I will refer to Peter Knight of Northumberland as "Capt. Peter Knight" simply for ease of distinguishing him from other Peter Knights.
First: The Age and Origin of Capt. Peter Knight
Among the records brought to light since Lucian Lamar Knight wrote his Knight-Woodson genealogy (see the Introduction), there is one of particular interest because it is dated and it definitively reveals the age and thus, the year of birth, of Capt. Peter Knight – he told us himself in a court deposition that Lucian apparently never read.
1655 - Aug 20 – VA Northumberland – Admin – Peter Knight - Knight, his Depo – "Peter Knight aged 35 yeares or thereabouts sworne and examined saith That the general report of Alice Atkinson that hee ever heard was shee was an whore and one that never would live with her husband but that shee rather always was desirous of absence from her husband then for to live with him and further this Depont sayeth not Peter Knight 20 August 1655 Jurat in Cur" (Sparacio, NCV D&W Abs. 1650-1655, p. 121)
He was also referred to on at least one occasion as "Peter Knight JR", confirming that there were at least two Peter Knights, and that Capt. Peter was the younger of two that were well-known, though being a JR does not necessarily establish familial relationship. Further, the will of Capt. Peter Knight, image above, names only four children: Leonard, James, Elizabeth and Mary; and there is no William or Peter. That does not mean there were no other children, it only means that there were only four living at the time he made his will in 1702 when he was 82 years old. He mentioned no grandchildren, but that does not mean there were none because wills seldom mentioned grandchildren unless there was a special reason to do so. It was assumed that the inheritance to the children would be passed to the grandchildren. However, if there had been children of a deceased child of his, one expects that he would have mentioned that fact and he did not. So we can immediately dispense with the notion that there was any William or Peter or William Peter as so many fake genealogies claim.
Whenever one is doing historical research, one of the most problematical things is to find a secure Time Peg to anchor everything. If you have one, you can work backward and forward and sideways from that secure mooring. As it happens, we have such a peg for Capt. Peter Knight.
On 20 Aug 1655, Capt. Peter Knight gave a deposition in a court case stating that he was 35 years old. What this means is that the Peter Knight who came to be known as Capt. Peter Knight, had to be born in 1620. It also means that the Peter Knight who first patented land in Virginia on 13 Mar 1638 could not be the same person as Capt. Peter because Capt. Peter Knight was not yet 21 years old.
Without knowing this all-important fact, some egregious errors were made in the early days of genealogical research on the Virginia Knights, and these errors have propagated widely via the internet and persist to this very day. (Please read the Introduction which covers this, including the "Abel Knight" issue.) Here, I want to dispose of another one that is ubiquitous.
The Wrong Genealogy for Capt. Peter
Many individuals, unaware of the fact that Capt. Peter told us his age, but still realizing that there must have been two Peters, and assuming they were father and son, have pounced on a Peter Knight whose records are found in the church of St. Margaret Pattens, London. I've combed through that parish registry and the results are as follows: (all from the Parish Registers of St. Margaret Pattens 1559-1660, personally studied by myself, the images of which are provided on ancestry.com and I took screen shots):
First appearance of a Knight in this parish:
Peter Knight and Katherin Swann married 19 January 1589.
This Peter who married Katherin would have to be born c.1570 and so people have estimated and duly entered into their family trees in error, as it happens and as you will see in a moment.
Nine months later:
Peter Knight son of Peter Knight bap. 21 Sep 1589.
Nine months almost to the day! And of course, this is assumed to be the Peter Knight who came to Virginia. If that were so, he would be 46 years old when he first appears in the records, and it is assumed that he quickly patented land, married a child-bride (Genevieve Basse), became Capt. Peter Knight, and produced a son, Peter, who either was, or had a son named, William or William Peter, or Peter William, who became the progenitor of a raft of Knights in Virginia and everywhere else, it seems. This doesn't fit the actual Colonial records, the hard facts, so let me just fill in some details on the family of Peter Knight and Katherin Swann Knight living in the parish of St. Margaret Pattens, London. The following additional entries can be found in the register if a person just takes the time to read or search a bit further:
Mary Knight dau. of Peter Knight bap. 24 Feb 1591
Jane Knight dau. of Peter Knight bap. 5 May 1594
Ellin Knight dau. of Peter Knight bap. 21 Sep 1595
Margarett Knight dau. of Peter Knight bap. 6 Jul 1597
Ann Knight dau. of Peter Knight bap. 23 Sep 1599
George Knight, son of Peter, bap. 14 May 1601
Anne Knight, dau. of Peter Knight buried 27 Jul 1603.
Peter Knight son of Peter Knight BURIED 16 Sep 1603
Peter Knight was BURIED 4 Oct 1603
Do you see the problem? I put in bold caps the most important facts (for our purposes here) to draw them to your attention. If the individuals who had pounced on this family as the source of their Peter Knight ancestry had only taken the time to search just a little bit more, they would have avoided the embarrassment of claiming progenitors who were, in fact, dead before arrival, so to say. The only conclusion we can draw from the above records is that Peter Knight of St. Margaret Pattens, is NOT Capt. Peter Knight or his father and this is not his family because both of these Peters died and were buried in 1603.
Captain Peter Knight's parents cannot be Katharin Swann and Peter Knight of St. Margaret Pattens. We don't know why they died so close together; the plague came at intermittent intervals until the early 19th century; England, Europe and North America were in the grip of the Little Ice Age and mortality was exceptionally high. If you spend some time just reading parish registers from that time, you will be appalled by the rates of burial over against the rates of birth at certain times. You can see entire families wiped out in a few pages. But I digress, let's move on.
We are deprived of cherished notions about Capt Peter Knight and his wonderful ancestry built on Peter Knight and Katherin Swann which populate dozens, if not hundreds or even thousands, of Knight Family Trees that I've seen online, and we must go searching; however, we are armed with that one very significant fact: he was born in 1620.
Searching the English records for a Peter Knight born in 1620 gives back only two possibles:
1620 – Jul 2 – London St Bride – Bap – Peter Knight s/o Peter & Cicely
1620 – Aug 13 – Kent New Romney – Bap – Peter Knight s/o Peter Knight (no mother mentioned)
It appears that the Peter Knight of New Romney died as an infant along with his mother, and his father is noted to be remarrying and having a subsequent child that he named Peter. So he's really out of the running.
That leaves us with Peter Knight of St Bride's or some other Peter Knight whose birth record we have not found, or was never made.
The Peter Knight born at St Bride's lost his father in 1629, so he can't be part of a father-son set in the colonies, but as we will see, that isn't a problem.
1629 – Apr 3 – London St Bride – Bur – Peter Knight – haberdasher, housekeeper (property owner)
If 1620 St Bride's Peter is Capt. Peter Knight, which is most likely, then there is certainly no father-son relationship between the two Peter Knights of Virginia; and that seems to be supported by the VA records.
It appears highly likely that the widowed mother of this Peter Knight remarried soon after (which was customary, more often than not).
1630 – Apr 15 – Hampshire Romsey – Mar – Cicely Knight & Thomas Collins
I'm still looking into this Thomas Collins and possible connections.
Aside from his early adventures in Maryland with William Claiborne, documented HERE, when Capt. Peter Knight first appears on the scene in Virginia, he is a "gent".
Originally, a gentleman was a man of the lowest rank of the English gentry, standing below an esquire and above a yeoman. By definition, this category included the younger sons of the younger sons of peers and the younger sons of baronets, knights, and esquires in perpetual succession. ... A gentleman was in his time usually expected to have a coat of arms, it being accepted that only a gentleman could have a coat of arms. ... The younger sons of noble families became apprentices in the cities, and there grew up a new aristocracy of trade. Merchants are still "citizens" to William Harrison; but he adds "they often change estate with gentlemen, as gentlemen do with them, by a mutual conversion of the one into the other." (Ref.)
We note that the father of Peter Knight of St Bride's was a haberdasher, but that's no reason to assume that either he or his son was not a "gent". He may very well have been a younger son of a baronet or knight. I noticed in reading and collecting wills that the sons of one Robert Knight, Gent, were all in trade, including one who was a fishmonger. So I'm afraid that the above definition of "gent" doesn't help much. Capt. Peter could certainly be the son of Peter Knight of St Bride's parish, a haberdasher and still be a gent.
In any event, long searching of the English records results in the fact that there is no father-son pair of Peters that presents itself unambiguously better than the St Bride's pair, and the later records of Virginia do not suggest a father/son relationship between the two Peters there, though some familial relationship is suggested by interactions with intermediaries revealed by the records, so we can probably be confident in saying that Peter Knight born at St Bride's in 1620 is likely to be Capt. Peter Knight of Virginia. (And there are a few other hints that this is so, as can be seen in the record collection.)
The Basse Problem
Another item brings even more clarity, demolishing thousands of repeated fake genealogies of Capt. Peter Knight alleged to have married a Genevieve Basse. In The Complete Book of Emigrants 1607-1660 by one of the giants of genealogy, Peter Wilson Coldham, there is a deposition given at the Lord Mayors Court of London, that says:
1654 - Aug 30 - London - Admin - Nathaniel Basse - Lord Mayors Court of London: Major Edward Basse, citizen and merchant of London aged 60, and Dame Mary Poole (signs Pole) wife of Sir John Poole of Bromley, Middlesex, age 62, depose that Hester Hobson of Bromley, widow, Abigail Thorpe of Chelsea Hampton, Oxon, widow, and Sarah wife of Thomas Hastler, citizen and barber surgeon of London, are sisters and are daughters of Humphrey Basse of London, Merchant, and Mary his wife, both long since deceased. The sisters are co-heirs of Luke Basse who died a bachelor and was brother of Nathaniel Basse lately deceased without issue in Virginia. Thomas Hastler is appointed attorney. (Coldham 1987, p. 274)
Please note carefully what is being said here: Nathaniel Basse died in Virginia not long before this deposition was taken in 1654, i.e. "lately deceased", and he died without issue. No children, no grandchildren. That means that there could be no Genevieve Basse, daughter of Nathaniel, to marry any Peter Knight. Yet, there is this:
John Basse (born Sept. 7, 1616, died 1699 in Virginia), who married the daughter of Chief Robin in 1638, was one of several sons of Capt. Nathaniel Basse and his wife, Mary Jordan Basse. On Aug. 14, 1638, John Basse married Keziah Tucker, "daughter of Robin the Elder of ye Nansemums kingdom, a baptized Christian ..."
This is from the widely propagated manuscript named: "Booke of John Basse Norfolk County Virginia, 1675." This text is just loaded with dates of births, marriages, and deaths, beginning with Humphrey Basse and tracing to the present families in Nansemond (Suffolk) and Norfolk. Apparently, Jesse Lindsey Bass, 1875-1960, was a chief of the Nansemonds. And we are told that Peter Knight married Genevieve Basse, daughter of Nathaniel Basse and Mary Jordon Basse and thereby received Basses Choice land.
However, the finding published by Coldham means, unequivocally, that the "Basse Bible" is a fraud. That's a harsh word, but that's what the evidence shows. There are no birth records for any children of Nathaniel Basse anywhere (other than the alleged Bible), and I've followed Basses in my record collecting and those records (or lack thereof) show that there is no truth to any of that nonsense. My guess is that it was invented by a Basse who was considered to be "a person of color" at the time, and was a way to connect himself and his family to eminent Colonial ancestors, including claiming Native American ancestry of respect. That is understandable, but it sure has made a mess of genealogy because he decided to use persons who were known in his fraud and, though he used what records were available to him cleverly, he had no inkling of what the internet and wide availability of further records would do in the future. Professional genealogist, John A. Brayton writes about this issue as follows:
Bass genealogy has been complicated by the appearance of fictional Bible records for the early generations, and by a persistent belief in descent from the very clearly childless Nathaniel Bass of London and Bristol Parish, VA, who died before 30 Aug 1654, and whose estate was settled onto his three surviving sisters in England in 1658. See the late Daphne Gentry's excellent article "Nathaniel Basse," in the Dictionary of Virginia Biography, vol. I, Aaroe-Blanchfield, pp. 382-83. The name John Bass does not exist in the colonial Henrico Co., VA, records. (Brayton, First Families of NC, Vol. 1, p. 15)
As it happens, I've seen a couple of other cases of "fictional Bible records" involved in Knight genealogy and want to warn you that if a Bible is claimed as a source, it should be available for examination in some way, usually good photographic images and with certification. If it is not, do NOT rely on anything said about it!
Essential Background
At this point, we need to consider some background on Peter Knight. If it helps you, you can check the comparison of records of the two Peter Knight's before reading on in case that will help, or switch back and forth between that article and this one.
Let's start with Edward Bennett, recalling that Peter Knight, Merchant patented land next to the Bennett tracts in 1638. From John Bennett Boddie's book Seventeenth Century Isle of Wight County Virginia (See Bibliography)
Edward Bennett, former Elder of the Ancient Church at Amsterdam, succeeded in establishing a colony in Isle of Wight County… Edward Bennett was the son of Robert Bennett, a tanner of Wivelscombe, Somerset, and his wife, Elizabeth Edney. …

When Edward Bennett fled to Holland is not known. … He was the owner of several vessels. It is probable that the "Gift of God" which arrived in Virginia in 1618, about the same time as Elder Blackwell's ship, was owned by Edward Bennett. This vessel often referred to as the "Gift" or "Gods Gift," a good Puritan name, brought over 200 emigrants to Martins Hundred in that year. …

The Neptune left England in 1618 with 180 emigrants and arrived with 150. … On this ship came Thomas Bennett and Richard Evans, who were living at Basse's Choice in 1625. …
The above, and later close associations of Peter Knight, Merchant, makes it likely that he was of the Puritan persuasion. For all we know, he had been living in Holland before he came to Virginia.
November 21, 1621, Captain Nathaniel Basse received his patent for 300 acres on the west side of Pagan River, near its mouth and just east of Bennet's tract. So, it appears they were closely associated. Boddie reports:
Nathaniel Basse represented his plantation called "Basse's Choice" in the House of Burgesses in 1629. The last account of him in the Virginia records is that he went to New England in 1631.
The way Boddie writes this makes it sound like Basse moved to New England which is not the case. Let's turn momentarily to another source. From the Dictionary of Virginia Biography:
Nathaniel Basse… came to Virginia in March 1619 with Christopher Lawne. In 1621 he received a grant of 300 acres of land; his settlement, Basse's Choice, was among the first English settlements in Isle of Wight County. Knowledge of his personal and family life is obscured by a lack of documentation, but tradition holds that he may have been the father of John Bass, who married a member of the Nansemond tribe in 1638 and from whom the Bass family of lower Tidewater Virginia is descended.
Thanks to Coldham, we now know that the above remark in this distinguised biography collection is not true at all. Nathaniel Basse was not the father of John Bass who married a Nansemond Indian or any other Bass/Basse for that matter. But, let's continue:
Basse was the second of twelve sons and second of eighteen children of Humphrey Basse and Mary Buschier Basse. His mother was of Italian descent, and his father was a prosperous London girdler of French ancestry who invested in the Virginia Company of London. Basse was probably born in London and was christened there in the parish of Saint Gabriel Fenchurch on December 19, 1589.

Basse first arrived in Virginia, so far as is known, in March 1619 with Christopher Lawne and other colonists associated in the settlement of Warrosquyoake Plantation in what is now Isle of Wight County. During 1620 Basse returned to England and obtained from the Virginia Company a confirmation of the patent to Warrosquyoake in November of that year. The company reconfirmed this patent in January 1622. In November 1621 Basse received a separate patent in his own name for a 300-acre tract a short distance west of Warrosquyoake on the east side of the Pagan River that has been called Basse's Choice ever since. He returned to Virginia on the Furtherance about August or September 1622, after the Powhatan uprising on March 22, 1622, when, according to John Smith's Generall Historie, the Indians "had fired Lieutenant Basse his house, with all the rest there about, slaine the people, and so left that Plantation."

Basse represented Warrosquyoake in the General Assembly sessions of February and March 1624, May 1625, March 1628, and October 1629. In June 1625 he signed a petition requesting Charles I to preserve the General Assembly as a fixture of the new royal government of the colony. Soon after arriving in Virginia late in March 1630, Governor Sir John Harvey appointed Basse to the governor's Council. The length of his service is unknown, but he is named as a member on documents dated December 20, 1631, and February 21, 1632. On March 6, 1632, Harvey commissioned Basse "to trade between 34 and 31 degrees North Latitude and to go to New England, Nova Scotia, or the West Indie Islands with instructions to invite the inhabitants hither if any so inclined," and sometime the same month Basse became presiding justice of the court of Warrosquyoake.

Extant records do not indicate whether Basse traveled to the other English colonies as directed, or whether he ever returned to England. He probably either remained in Virginia or returned to the colony following the voyages. The dearth of documentation also obscures much of Basse's personal and family life. Tradition has it that he married Mary Jordan in London on May 21, 1613 (Gentry, Daphne. "Basse, Nathaniel." In Dictionary of Virginia Biography, Vol. 1, edited by John T. Kneebone et al., 382–383. Richmond: Library of Virginia, 1998.)
Now we know that, whether or not Basse married anyone, he died without issue and we also now know that Basse was in Virginia when he died c. 1654. Nevertheless, in the above text, it is said that the last we hear of Nathaniel Basse is in 1632; I think that is wrong because there is a reference to him in a land patent of 1641 as follows

:
1641 - Jun 23 –VA Isle of Wight -Admin - Ambrose Bennett & Nathaniel Basse - Patent of Ambrose Bennett for 1150 acs. … Upon the maine head of the Lower baye Cr. Called Cypress Swamp. Trans. Of 23 servants. List incl: Anthony Cole, David Cone. On the same day and page, Bennett patented 300 acs of Isle of Wight Co., "Beg. Nigh persimmond swamp, the head of a branch of Seawards Cr. Etc." Adj. Capt. Nathaniell Bass. (Nugent I, p. 125)
This patent is written as though Basse were in residence. At the time of this patent cited above, he would have been c. 52 years old, and at the time of his death, c. 65 years old. Next we see these:
1638 - Apr 10 – VA Upper New Norfolk - Peter Knight, Merchant, 14 acs., being an island in Nansamund Riv., … S. side the Riv. Opposite land of Oliver Sprye & adj. Land of Robert Newman and Randolph Crew. Sd. 14 acs. & 36 acs. Not yet taken up, due for his own per. Adv. (Nugent I, p. 83) Note: Again, Peter Knight SR is described as "Merchant".

1643 - May 10 - VA Isle of Wight - Admin - Peter Knight (Peeter) - Land patent for 255 acs. … called Basses Choice…. Near Pagan Bay & Dawsons Cr. & land of Mr. Peter Hall. Trans. Of 6 pers: Peter Knight, Thomas Harris, James Foster, Edward Wells, William Nicholas, Thomas Cobb. (Nugent I, p. 166)
In the 1638 Apr 10 patent above, the note is made that Peter Knight still has 36 acres due to him "for his own personal adv." That is undoubtedly the reason he is giving himself as a headright in the 1643 patent; there's nothing mysterious about it, nor is it likely to be a son.
It is curious that Peter Knight patented 255 acres of what was said to have been a 300 acre original patent to Basse. Did Basse retain 45 acres to live on himself while assigning the remainder to Peter for sufficient remuneration to live on?
We can note one other thing: that this patent breaks the pattern of designating Peter Knight as "Merchant". However, there are further patents and information that tell us that the patentee here was certainly Peter Knight, Merchant. Consider the fate of Basses Choice in the following:
1675 - Dec 4 - VA Isle of Wight - Admin - Major Thomas Taberer - Land patent for 400 acs., 23 Apr. 1681 Up. Par. Of Is. Of W. Co., & commonly called Bassetts Choice (Basses Choice), neer mouth of Pagan Cr…. 150 acs. Granted Mr. Peter Knight in 1640 who sold to Mr. John Bland, merchant of London, & by Mr. Giles Bland, his sonn & Atty., conveyed to sd. Taberer 4 Dec. 1675, together with confirmation of the sale & a relinquishment of dower by Mrs. Sarah Bland, wife & Genl. Atty. of sd. John, 6 Oct 1679;… (Nugent I, p. 217; See also: Nugent I, p. 277)
Notice what this later patent says. First, it says that the original patent to Mr. Peter Knight was 150 acres, not the previously stated 255 acres which had already shrunk from Basses 300 acres. Perhaps the scribe intended to write 250 and made an error. Or perhaps Peter Knight only sold a still smaller portion of this patent to Bland. Or, finally, perhaps there were mistakes in the original survey and a subsequent survey, and improved surveying methods kept changing the size of the tract. We also note that it was "granted" in 1640, though the patent wasn't registered until 1643. That was the normal delay. We also note that Peter Knight sold the tract to John Bland and that name leads us to other discoveries in the following 4 records.
1) 1636 - May 20 – VA James City – Admin - William Carter - Land patent 700 acres "for the per. Adv. Of his first wife, Avis Turtley, 50 acs. For the per. Adv. Of his second wife Ann Mathis & 50 acs. For the per. Adv. Of his now wife Alice Croxon" and for the transportation of 11 "servts" including Richard Cooke, Alice Watkins, Edward Bland. (Nugent I, p. 42)
Item 1 is interesting due not only to the use of Edward Bland as a headright, but also because it is a patent of a William Carter and a family of Carters are closely associated with one group of later Knights. Also notice that he was able to use three wives as headrights even though two of them were dead! (I tell you, that headright system became a racket for Colonial Virginians! In the records, you are going to see them using their friends and relatives over and over again, sometimes even using the same list for patents in two counties at one time!)
In any event, we know that Edward Bland was not really a "servant" of William Carter except perhaps, insofar as he was apprenticed which was quite common even among the wealthier classes; he was the son of a well-to-do merchant of London, John Bland. His brothers were John, Richard, Adam and Theodorick.
2) 1647 - Mar 10 – VA James City – Admin - Edward Bland, Merchant - Land patent for 1,300 acs. On the S. side of James River about a mile from the head of Upper Chipoake… trans. Of 26 pers: Incl: Edward Bland, James Bland, Elizabeth Bland, Ann Farrar, and others. (Nugent I, p. 171)
Item 2 is shows Edward Bland as a merchant 11 years after he was a "servant" of William Carter. Notice also that his headrights are his family members and possibly friends and 'servants'.
3) 1652 - Aug 25 – VA Gloucester - Admin - Mr. Peter Knight - Land patent for 700 acs. …Upon Easternmost side of Poropotank Cr. Towards the head of same, beg. At a branch dividing this & land of Mr. Blunt &c. Trans. Of 14 pers: John Ball, Alexander and Richard Weston, John Henton, Thomas Cobb, Thomas Taberer, Richard Lathberry, James Clarke, Samuel Clarke, Margery Chamber, Thomas Miller, Katherine Huse, Arthur Carpenter, John Simson. (Nugent I, p. 277)
Item 3 shows Mr. Peter Knight transporting Thomas Taberer who, 20 years later is "Major Thomas Taberer." Also notice Samuel Clarke in item 3.
4) 1654 Nov 20 - Northumberland VA - Order Book # 2. Page 30. Mr. Knight agt Wm Jones – Mr. Peter Knight to have attachment agt. Estate of William Jones for 1500 lbs tobacco due to Mr. Edward Bland in the hands of Hugh Lee. (Fleet, p. 56)
In item 4, a Mr. Peter Knight is is apparently acting on behalf of Edward Bland in a lawsuit to attach an estate for debt. This could be Peter Knight of Gloucester, but is most likely the Peter Knight OF Northumberland, who later becomes Capt. Peter Knight. That in itself is not terribly suggestive because the population was still rather small, but still, it appears to me to implicate him in the web of relationships with Peter Knight, Merchant.
5) 1674 Apr 8 - Gloucester VA – Samuel Clarke (text: Clerke), 700 acs…. E. side Poropotanck Cr. & maine Sw; p. 511. Granted Mr. Peter Knight, dec'd., 25. Aug. 1652 & due sd. Clerke as heire & next of Kinne. (Nugent II, p. 147)
Finally, in item # 5, Samuel Clarke, headright in item 3 has become, 20 years later, the heir and next of kin of Peter Knight, Merchant, who has died. Also please note that Maj. Thomas Taberer's acquisition of Basses Choice, noted above, is dated 1675 while Samuel Clarke's acquisition of Peter Knight's Gloucester land is dated 1674. It is probably not a coincidence and is related to the death of Peter Knight of Gloucester but we don't know how, or why. The fact that Thomas Taberer was a headright of Peter Knight SR in the same patent of Peter Knight SR, 1652 Aug 25 where James Clarke and Samuel Clarke appeared shifts the weight of evidence to Peter Knight, Merchant of Gloucester, being the pantentee of Basses Choice, and not Capt. Peter Knight of Northumberland County.
We know that Capt. Peter Knight is not dead yet because he is going to make his will in 1702, and we have a copy of this will above and records relating to its probate and his actual children, so this shows us with certainty that there were two Peter Knights.
There are several ways that Samuel Clarke could have been the "heir and next of kin" of Peter Knight, Merchant of Gloucester; he could have been a nephew, a son-in law, a step-son, or even could have married the widow of Peter Knight. But all of these would pretty much depend on there being no other closer "next of kinne". One other item might relate to the same Samuel Clarke, used as a headright by Peter Knight in 1652:
1647 - Jan 26 – York VA – Admin - Samuel Clarke - Court: That Nicholas Clarke is bound for paymt of 1500 lb tobo for John Coleman to Augustine Warner…Committee of administration on estate of Walter Pitchfork to John Hartwell "in the behalf of Samuel Clarke orphan". (Fleet III, p. 69)
In 1647, A Samuel Clarke is an "orphan" and 5 years later, a Samuel Clarke is a headright for Peter Knight, merchant. One supposes that Peter Knight was an associate of Nicholas Clarke, the apparent relative of Samuel Clarke. It is also possible that Peter Knight married the widowed mother of Samuel. We just don't know.
The point of the above excursus is to notice that the fate of the Basses Choice property can tell us things if only we can read the signs accurately. It appears to me that the weight of evidence falls on it being purchased by Peter Knight the elder, Merchant of Gloucester County. However, we can't exclude some sort of relationship between him and Peter Knight the younger, but the other clues from the accumulation of records and following up on some of the names suggests that the two were not father and son because the "heir and next of kin" of the Peter Knight of Gloucester was one Samuel Clarke who was also used as a headright and must have been related at that time, or later.
The Hawley Problem
I want to go in another direction here and look at what I call "The Hawley Problem" which really isn't much of a problem, but a lot of people who have had the sense to give up Genevieve Basse as wife of Capt. Peter, are listing Capt. Peter's wife as "Francis Ann". We know from the records that Peter Knight married Anne Hawley, the daughter of James Hawley, but here we want to inquire into some minor details.
First of all, let's just get this record right up front:
1635 - Dec 23 – London St Giles Cripplegate - Bap - Anne Hawley - Father: James Hawley, grocer. (London Metropolitan Archives, Saint Giles Cripplegate Parish register of Baptisms, Marriages and Burials, 1538-1812, images of entire registry on ancestry.com)
It doesn't say "Francis Ann", it says simply "Anne" and it tells us that her father was a grocer. He, too, even though a grocer, came from a highly esteemed family. See HERE for details. In 1642, this James Hawley patented land in Virginia:
1642 - Apr 22 - Isle of Wight VA - Admin - James Hawley - Land patent for 300 acs. . … Upon the head of the Lower Baye Cr., adj. John Rowe. Due for the per. Adv. Of himself, Ann, his wife, & trans. Of 4 pers: Francis Ann & Alice, his children, John Foster & Richard Darling. Patent renewed Sept. 27, 1643. (Nugent I, p. 125)
The scribes of the time did not use commas the way we doand I would read that list of people as Francis, Ann & Alice, i.e. three children. Another point in favor of it being three children is that few people at the time gave their children two names.
In 1655, we learn that James Hawley is in Northumberland County because another land patent mentions his land:
1655 - Jun 4 - VA Northumberland - Admin - John Johnson - Land patent for 85 acs. on N. side of great Wicocomoco Riv., bet. Mr. James Hawley & William Betts… (Nugent I, p. 309)
Capt. Peter Knight had already patented land in Northumberland County in 1649, but that was after a rather longer history there that is included in the records comparison HERE.
By 1655, when James Hawley is mentioned as being in Northumberland County, Peter Knight and James Hawley are acting together in the County court:
1655 - Nov 20 - VA Northumberland – Admin - Peter Knight & James Hawley - Court: John Johnson agt Mr Morris Admr of Thomas Coggin: Peter Knight petitions the Court in Behalf of John Johnson for 590 lb. Tobo., due from Coggin. Johnson having made oath before Mr. James Hawley. (Fleet, p.66)....:Mr Peter Knight, his motion Regarding an action of debt betw. Knight and Col. John Mottrom, deceased. (Fleet, p. 67)
Notice that Peter Knight is acting for the same person, John Johnson, who selected land next door to James Hawley. The following year, James Hawley married Jane Horsley, widow of Ralph Horsley, who had also patented land in Northumberland county in 1648/49.
1656 - Sep 20 - VA Northumberland – Mar - James Hawley &. Jane Horsley - widow of Ralph Horsley with the consent of Joseph Horsley, son of Ralph Horsley. (Northumberland Co. Court Orders 1652-57:73) (Horsley was alive as late as 7 Nov 1653 in another record.)
What makes the above record so bizarre - even if understandable - are the following two records:
1654 - Oct 2 – VA Northumberland - Admin - Peter Knight - Land patent for 1200 acs. on the S. of great Wicocomoco Riv.... On the head of the Swd. Branch of sd. River, E.S.E upon land of Tho. Coggen &c Trans. Of 24 pers: Robert Burrell his wife & 3 children out of Holland; James Hawley (Haly), Ann his wife; Fra. Ann & Alice, their children; John Foster, Ruth Darling, James Hill, James Lloyd, Deborah Come, James Jones, John Jerrell, William Bradley (Bradly), William Slinton, John Waddington. (Nugent I, p. 295)
I only count 20 people if you assume that Fra. Ann & Alice are 3. We are still 4 people short. That could simply be an omission of the scribe. Two years later, in the same county, but for a different tract of land:
1656 - Oct 9 – VA Northumberland - Admin - Mr. Peter Knight - Land patent for 925 acs., in Petowmack Riv. adj. Chappawansicke Cr. Moiety of patent for 1850 acs. Renewal. Retaken up by new rights & trans. Of 19 pers: John Waddington, Andrew Cockerin, William Ballingall, Edward Meeres, William Mundy, Richard Wall & 1 servt. name Thomas, James Hawley (Hawly), Ann his wife, 3 children, John Foster, Ruth Darlinge, James Hill, James Lloyd (Loyd), John Seaman, William Seaman, Gilbert Seaman. (Nugent I, p. 340)
Notice what the patent says: trans of James Hawley, Ann his wife, and 3 children. And we get a total of 19, as claimed. But on the 1642 Apr 22 patent of James Hawley in Isle of Wight county, we read: "300 acs. . … Due for the per. Adv. Of himself, Ann, his wife, & trans. Of 4 pers: Francis Ann & Alice, his children, John Foster & Richard Darling." That is, in addition to himself and his wife, there are 4 persons. If you only count 2 children, it works out as stated and fits the acreage, i.e. 50 acres per person for 6 persons. But later, Peter Knight uses the family twice and the first time, even extending it to 3 children, his list is 4 short. But in his second list, he designates 3 children, eliminates the names of the children, and his math works out. It seems to me that Peter Knight knew that there were 3 children brought to the colonies by James Hawley, and he tells us that in the 1656 patent. Nothing is ever heard again about a Francis Hawley so there is a mystery there. Meanwhile, the scribe has written down the information according to scribal conventions of the time, and later transcribers or users of this information have assumed the name of Anne Hawley was "Francis Anne" when it was not. Taking all the information together supports this conclusion: there was no "Francis Anne Hawley", there was only Anne Hawley as stated on her baptismal record, and there were two other children who were brought to Virginia: Francis and Alice, but Francis died at some point or possibly never existed.
Looking at another aspect of the previous two records, the strange juxtaposition of dates where James Hawley married Widow Horsley in the same year that he and his first wife, Anne, are listed as headrights in Peter Knight's patent, is probably due to the fact that the patent was applied for 3 years prior to granting, i.e. 1653. As it happens, Ralph Horsley, whose widow James Hawley married, was a witness in court on 7 Nov 1653. By 1656, James Hawley - who had a wife named Anne in 1653, and Jane Horsley, who had a husband in 1653, were both without spouses, so the spouses died after 1653 and before 1656.
Notice also the duplication of names: In 1642, James Hawley used John Foster & Richard Darling as headrights. In 1654 and 1656 Peter Knight used not only the Hawleys, but John Foster, Ruth Darling. And that is in addition to several other duplicate names on his lists. In the 1654 Oct 2 patent, Peter used Robert "Burrell", his wife and 3 children "out of Holland". Here, they have become "Burwell". Who knows which name is correct? He also used William Bradly and here is using William Bradby; Deborah Come in the previous patent, Deborah Conne in this one; James Jones same in both. All of the name mess-ups could be due to the errors of the scribes of the time, or the transcribers of our day, or both; but the bottom line is that Peter Knight was re-using many of the same people over and over again for his land patents, and many of them were relatives, friends, or children of friends and relatives.
Also, note that as late as 1653, Anne Hawley was still Anne Hawley and not Anne Hawley Knight; she and Peter were not yet married. But then, in 1654, we come across a couple of curious items - curious for Capt. Peter, that is: he was in a generous mood that year:
1654 - Nov 7 - VA Northumberland - Admin - Peter Knight - Mr Knight, his gift to Thomas Prichett – "I Peter Knight in consideration of my love unto Thomas Pritchett Junr" gives a heifer. Dated 7th November 1654. Signed Peter Knight. Witnesses William Spicer his marke, George Marsh. Rec. 20 Nov. 1654. (Fleet, p. 126)

1654 - Nov 17 - VA Northumberland - Admin - Peter Knight - Mr Knight, his gift to Thomas Waddy "I Peter Knight in consideration of my love unto Thomas Waddy" gives a calf. Dated 17 Nov. 1654. Signed Peter Knight. Witnesses: Rob Yeo, Daniel Foxcroft (ffoxcroft). Recorded 20 Nov. 1654. (Fleet, p. 126)
Notice that a John Waddington is listed as a headright in 1654 and 1656, and in 1654, Capt. Peter gives a cow to a Thomas "Waddy". Based on the standards of the time, this gift was most likely given to a grandchild or close-kin godchild at christening. But the cow giving was a double event, ten days apart, and the two records suggest that Capt. Peter was taking on a new role, that of god-parent. He wasn't old enough to be a grandparent unless he had married at 18 or so. I have found no Waddy/Knight or Pritchett/Knight connections otherwise, so I wonder if these connections were new in some way? Based on the later records of his children, I would suggest that it was around this time that Capt. Peter Knight married Anne Hawley who would have been 19 yrs old, and through the Hawleys, and his marriage, acquired some relations by marriage and wishing to impress his new wife, he gave magnanimous gifts to her relations. I think it would be not long after this that Anne Hawley the elder died, probably 1655; Ralph Horsley may have died around the same time also which would mean that there was some sickness going around.
Then, not long after James Hawley married Widow Horsley, he patented his own land (the application undoubtely being put in perhaps 3 years earlier):
1657 - Mar 13 – VA Northumberland - Admin - James Hawley (Hawly) - Patent for 1000 acs. …On S. side of Petomeck… Trans of 20 pers. Susan & Rebecca Orly, John Hill, Daniel Riley (Ryly), John Benton, Sarah Rasee, Mr. Geo. Coltclough, Mrs. Ursula Coltclough, Sarah Tompson, Phillip Nut, Ralph Stevenson, William Osborne, John Highland (Highlander?), George Cuny, Amy Steevens, Amy Yeomans, Elizabeth Exe. Renewed 24 May 1664. (Nugent I, p. 362)
It should be noted that Mr. Coltclough had already patented his own land in Northumberland Co. on 4 June 1655 (Nugent I, p. 309) and his land is mentioned in the patent of John Hulet (Nugent I, p. 322) whose headrights include John Evans. The patent of John Evans, 1655 Mar 11, includes John Knight as headright. (Nugent I, p. 330) A patent of Peter Knight, Merchant, 16 July 1652, also includes numerous Evanses. (Yes, I know that grants were often written down some time after the arrival of the person and record-keeping wasn't what an OCD archivist would wish, but still, we see repeated evidence of prestidigitation of lists of persons in order to obtain huge tracts of land. It was a racket!)
Now, coming back to the two patents of Peter Knight where he used his future in-laws as headrights. From the above two grants mentioning the children, we notice that they are 2 different grants in the same county, one for the transport of 24 persons (only 20 named), and then 19 persons, 2 years apart. Now, aside from the reference to 3 children which totally confuses the Francis, Anne, & Alice or Francis Ann & Alice issue, is the fact that the 1200 acre patent appears to be right next to another very large tract as follows:
1653 - Oct 13 – VA Northumberland - Admin - Peter Knight & Baker Cutts (Cutt) - 1850 acs... Bounding Sly. upon Capt. [Giles] Brent's land, Ely. Upon Potomeck Riv. & Nly. Upon Chapawansick Cr. Trans. Of 37 pers: William Clayre, John Sysone, (or Sipsone), James Westbrooke, William Valence, Elinor Ramsey (Ramzee), John Fairbanks, Francis Mott, Richard Spurnell, Rice Morris (Morrice), Robert Knott, Elizabeth Lawrence, Elizabeth Morris (Morrice), James Barber, John Drap, Toby Ingram, Wilmott Jones, Adam Daniell, Thomas Charnold, Mary Davis, Michael Pope (Poope), John Fuller, John Robinson, John Spratt (Spreatt) Susan Pungly, Rice Thompson, Christopher Bennett, Emanuel Willey (Wille), Elizabeth his wife, & 6 children; William Murdure, Georg Ayre (Airea or Acrea?), 3 Negros: Robt., Sampson & Thomas & one Indian Thomas. The three last names due. (Nugent I, p. 282)
Some of the above were surely newly imported, but not all of them. Once you have become very familiar with Colonial Virginia, you begin to recognize names of various important families; once you do that, you can see when the "racket" was in operation vis a vis headrights, and when the patentee was actually transporting new people, and not just pretending to do so. It appears that Capt. Peter Knight was well connected on both sides of the Atlantic and the above headrights demonstrate this. While I'm here, I'll just include a couple of items relating to Peter Knight's partner in the above land transaction:
1633 - Nov 7 – London – Admin - Barnabas Cutts - Hight Court of Admiralty examination: Barnabas Cutts of St. Andrew, Holborn, London, scissor merchant aged 42; examined in the High Court of Admiralty and stated he was employed as a tobacco broker and in 1631 sold Virginia tobacco on behalf of Reginald Parker, linen draper in Tower Street, to Gabriel Bonner, grocer against St. Sepulchre's Church; and on behalf of Mr. Michael Herringe, merchant dwelling in Walbrook, to Mr. William Tickner, grocer in Red Cross Street. In 1632 he sold Virginia tobacco on behalf of Capt. John Preene to Tickner. (Coldham 1984, pp. 41-42)
A Baptism record for a Barnaby Cutts, 1635 Jul 29 at St Andrew, Holborn, London, can be noted, as well as a burial record for Barnaby Cutts, 1636 Sep 5, probably the elder, of the same parish. Several children are born to Barnaby and his wife, Katharine, none named "Baker", so one may assume that the name is a nickname for "Barnaby".
Capt. Peter Knight's Family in Northumberland
Aside from the more lengthy discussion of his adventures prior to his earliest Northumberland County records, regarding his family, we have certain facts and some very suggestive records. The earliest about a potential family member in VA is the following:
1646 - VA Northumberland – Birth/BAP - Anne Knight – Anne Knight. Parents unknown. She later married William Coppedge in 1666 at Wicomico Parish Church in Northumberland County. They were the parents of Charles Coppedge and at least 4 other children. She died in 1688 and was buried in Wicomico Episcopal Church Cemetery where her gravestone can be found. Charles Coppedge married a Lucy or Sarah Lunsford about 1735. (Find a Grave: Wicomico Parish Church)
Was this Anne a daughter of Capt. Peter Knight by a first wife? The wife/mother is clearly not Anne Hawley who was born in 1635 and would have been only 11 years old at this time. John Coppedge, apparently another son of this couple, ensured that Knight records, including Capt. Peter Knight's will, were re-filed after a fire burned the records in Northumberland County so it seems to me that there must be some connection. Of course, Coppedge may simply have been acting as County Clerk and just doing his job.
The first Coppedge in Nugent is a mention of him as owning land adjacent to Ralph Horsley who we have already met.
1653 Oct 13 – Northumberland VA – Thomas Keene, 527 acs…. Abutting N.W. upon the several lands of Ralph Horsly & Edward Coppedge… trans of 11 pers…. John Earle & his wife, Thomas Keene, Mary Keene, William Keene. (Nugent I, p. 251)
Notice that Keene used John Earle and his wife in his patent application. Keene prev. appears as a headright for Col. William Clayborne (Nugent I, p. 244) and a Thomas Keane is listed as headright 11 Nov. 1635 by a Thomas Harris for land in Henrico Co. (Nugent I, p. 33)
I haven't found any actual early patents for any Coppedge, but they were certainly there, they had land, and there were relationships between them and Knights, but we cannot prove that this Anne Knight was a daughter of Capt. Peter Knight. There were a few other Knights in Northumberland county as you will see HERE who were very likely related to Capt. Peter, but we don't know how for certain; one of them could have been her father.
Next: we have the birth record of Anne Hawley, Peter's wife and there is testimony in the records that James Hawley was born in 1605 and Ann Hawley the elder born in 1615. I have proposed that Peter married Anne in 1654 when she would have been 19 and he was 34. Six years later we find the following:
1660 - Feb 15 - VA Northumberland - Admin - James Hawley & Elizabeth Knight - Knowe all men by these presents that I James Hawley for & in consideration of my love & affection I doe give unto my Grand Child Elizabeth Knight one Cowe Calf cropped on both ears a staple underneath the left ear & over keeled under the right ear & a slit, the sd. Elizabeth Knight to enjoy the sd. Cowe Calf with her increase to her & Her heirs forever; Witness my hand this 15th day of February 1660. Test Edward Hawley, his mark /w/ James Hawley. 26th February 1660. This Deed of Gift was acknowledged in Court by Abraham Bryam. Attorney of the sd. James Hawley and is recorded. Knowe all men by these presents that I James Hawley doe make my loving Friend, Abraham Byram, my true & lawfull Attorney to acknowledge this Bill of Sale in Court; Witness my hand this 5th of February 1660. Witness Richard Robards /s/ James Hawley. 20th Febr: 1660. This Letter of Attor: was recorded. (Northumberland County, Virginia Record Book 1658, p.56)
I would suggest that the above is a christening gift. (The form of this document also supports the idea that the gifts of Peter Knight to the Waddy and Prichett children were familial exchanges.) Peter and Anne could very well have had at least two children in the time between their marriage and this gift to a daughter by her grandfather, James Hawley. We don't have the records of any other gifts of his to other children, but that doesn't mean they weren't made; this one just happened to survive.
In 1711, Capt. Peter's son, Leonard, gave a deposition and stated that he was then 45 years old, so he must have been born c. 1666, six years after the birth of Elizabeth. All of Capt. Peter's children named in his will, James, Elizabeth, Leonard and Mary, are adults at the time of the writing of said will in 1702 and he refers to both daughters as having the name "Knight" at the time of the will . But, that does not necessarily mean neither of them married as the following shows:
1679 – May 21 – VA Northumberland – Peter Knight & George Knight – Court: Capt. KNIGHT's Bond for his Son in Law's to appeare: Capt. PETER KNIGHT doth in Court oblige himselfe in the penall sum of five thousand pounds of tobacco and caske that his Son in Law, Mr. GEORGE KNIGHT, shall appeare the next Court to answer the suites of Mr. CHARLES MORGAN, Attorney of Mr. EDWARD FEILDING, and Mr. JOHN HUGHLETT, SENIOR. (NC 1677-1679 Order Book, p. 36)
It appears that we are here being notified that Capt. Peter's daughter - one of them - was married to a George Knight who was a miller. We know that Elizabeth Knight, daughter of Capt. Peter, was born at least by 1660, and would be 19 at this time. Was she the wife of George Knight? Or was it an older daughter such as Mary, whose age and birth order we do not know? Recall the Anne Knight born around 1646 who married a Coppedge c. 1666. There certainly could have been another daughter by a previous wife about which we know nothing, and who died before the writing of Capt. Peter's will. However, based on the unusual wording of Capt. Peter's bequests to his daughters, in his will, I think one of them is the likely prospect here: Mary or Elizabeth.
As for George Knight, he may have been a cousin, or he may have been more distantly related, or not apparently related at all. He is said to be a miller, so not just a fresh young man on the make. If his wife is Elizabeth, who is at least 19, he would likely be a bit older, say 25. That would put his birth c. 1654. I have found no likely prospect to be this person in the English or Virginia records, though there is a family of Knights of Cowden, Kent with a tradition of naming sons "George", that looks promising as a connection.
I also wonder if "Guy" was a nickname for George? Note the appearances of a Guy Knight in the disambiguation article. Is it possible that this is our lost Guy Knight? After all, he was introduced as a headright to Northumberland county in 1658, 20 years earlier which would give him a birth estimate of at least 1640. Since I think that Capt. Peter married about 1654, his daughter Mary, could have been born 1655 or so. She would have been of marriageable age in 1671 when Guy/George was 31. Plus, consider the land patented by Guy: Milford Haven and George here is said to be a miller.
Regarding what I just said about the strange way Capt. Peter refers to his daughters in his will, the the next few records may have something to do with it.
1679 - Aug 20 - VA Northumberland – George Knight – Court: Mr. RICHARD PEMBERTON against GEORGE KNIGHT ye Miller: referred to the next Court; GEORGE KNIGHT ye Miller against RICHARD PEMBERTON: referred to ye next Court. (NC 1677-1679 Order Book, p. 44)

1679 - Oct 15 - VA Northumberland – Peter Knight & George Knight – Court: THO: HICKMAN agt GEORGE KNIGHT: Whereas THOMAS HICKMAN was summoned to this Court to give in his Evidence on the behalfe of Mr. GEORGE KNIGHT the Miller against RICHARD PEMBERTON, it is ordered that GEORGE KNIGHT, the Miller, pay THOMAS HICKMAN for his attendance according to Law; GEO: KNIGHT agt RICHD: PEMBERTON: Whereas GEORGE KNIGHT complaineth to this Court that RICHARD PEMBERTON beate and abused his Wife, it is ordered that RICHARD PEMBERTON pay GEORGE KNIGHT the sum of tenn pounds of tobacco damages with costs of suite als Execution (NC 1677-1679 Order Book, p. 46)
Well, obviously, if George Knight was the son-in-law of Capt. Peter, the wife in question here who was "beate and abused" by Pemberton, was a daughter of Capt. Peter. One can hardly imagine why a man would assault another man's wife. One wonders, of course, if "beate and abused" was a euphemism for "raped"? But you would think that would be worth more than 10 lbs of tobacco! Perhaps the family did not want it bruited abroad that the young woman had been raped? Perhaps they were not satisfied with the way the court dealt with the issue and took matters into their own hands as the next record may possibly show:
1680 - Jan 21 - VA Northumberland – Peter Knight & George Knight – Court: RICHD: COX's Comm of Admn of KNIGHT's Estate: Upon the Petition of RICHARD COX a Commission of Administration is granted him of the Estate of Mr. GEORGE KNIGHT, deceased, he giveing caution according to Law; Bond RICHARD COX, Mr. THOMAS MATTHEW and RICHARD FLYNTE doe oblige themselves in the penall sum of tenn thousand pounds of tobacco and caske that RICHARD COX will duly administer of the Estate of Mr. GEORGE KNIGHT, deced., and exhibite an Inventory thereof to the Court; Appraysers Ordered that WILLIAM [ ? BEUFFAW], THOMAS ADAMS and WILLIAM DAWSON apprayse the Estate of Mr. GEORGE KNIGHT, deced., they being first sworne according to Law. (NC 1677-1679 Order Book, p. 54)
Now we learn that the husband of Capt. Peter's daughter has died not long after the incident of her being "beate and abused" was brought to our attention. Did he die because he fought a duel or engaged in some violence with the man who abused his wife? Were the friends named above as administrators of his estate involved with him in an activity of this kind? This is beginning to sound like a major tragedy in this young woman's life. We may never know.
Moving on, two years later, we encounter this record:
1682 - Nov 20 - VA Nansemond - Admin - Col John Lear - Land patent for 900 acs. in Up. Par. Of Nanzemond; at Plumpton Park alias Orapeak. … Trans. Of 18 pers: Andrew Beech (?), 4 times; Thomas Andrews, John Griffin, John Freeman, Thomas Harding, Adam Rable, Luke Neale, Tomsin Tarner (or Tanner), Mary Price, Samuel Clarke, Walter Noak, John Wharton, Phillip Powell, Michael Thomas, James Knight. (Nugent II, p. 246)
Who is this James Knight? Who is this Samuel Clarke? Is the latter a son of the same Samuel Clarke declared to be the heir of Peter Knight, Merchant of Gloucester, in 1674? This is the first appearance of a James Knight in the records as far as I have found and the only other James Knight I know of, in the colonies at the time, is the son of Capt. Peter Knight of Northumberland Co who will be named in his will some 20 years after the above record. As I have already said several times, based on what I have observed in the records, young men, sons of planters, would "lend" themselves as headrights, possibly binding themselves as "servants" to other planters, and thereby lay the foundations for their own land patents and establishments. This appears to have been done within networks of family associations and relations.
Capt. Peter's son, Leonard, gave a deposition at one point declaring his age so we know he was born in 1666. Capt. Peter's father-in-law gave his granddaughter a gift of a cow in 1660, probably at her baptism. James was the eldest son, so I would estimate his birth at about 1664-5 or so. That would make him 18 years old at this time and thus ready to strike out on his own. That is what I think we are seeing here, and also what we are seeing with quite a few "headrights" as used during this period in the colony. The same is probably true for Samuel Clarke; he is very likely the son of the Samuel Clarke who was the heir of Peter Knight of Gloucester and this is another of the connections between the two Peters that I find suggestive.
We get something of a confirmation of my theory in the following; two of the young men used as headrights by Col Lear four years earlier, now patent their own land:
1686 - Apr 27 - VA Nansemond - Admin - Michael Thomas & James Knight - Land patent for 450 acs.. Up. Par. Of Nansamond Co: at mouth of a br. Of Orapeake Sw…. Trans of 9 pers: Thomas Conroe, Cock Cromwell, William Mandor. (Nugent II, p. 297)
This appears to be close to the land patented by Col. Lear in 1682. As I have already proposed, this is most likely James, son of Peter Knight; the time fit is too coincidental for it to be otherwise considering the time of the marriage of Capt. Peter to Anne Hawley; James would be probably exactly 21 at the time this patent was filed, the legal age requirement.
One year later, we find this:
1687 - Apr 20 - VA Lower Norfolk – Admin – Peter Cartwright – Land patent for 358 acs. on E. side of the S. br. of Eliz. Rive…Trans. Of 7 pers. incl: Peter Knight, Edward Hawley (Hayly), John James. (Nugent II, p. 309)
If these young men were following the usual practice of accumulating funds and favors, or contracting as apprentices, to obtain their own land, then this Peter Knight was most likely a son of Capt. Peter Knight, and this Edward Hawley, his cousin, both grandsons of James Hawley; it's just too coincidental to find these two names together and following so closely on the James Knight/Col. Lear connection in a nearby location. Based on the date of his appearance as a headright, he is younger than James Knight. A ball-park estimate for the date of this Peter's birth would be 1667-9, following the birth of Leonard, who gave an affidavit as to his age.
The question is: what happened to this Peter? He is not mentioned in the will (1702) of Capt. Peter Knight. If he was a son, he must have either pre-deceased Capt. Peter or been so estranged that his name was damnatio memoriae. That is not likely; if Capt. Peter Knight wished to protect his estate from claims by a disinherited son, he would need to make provisions for that in his will, and there are none. Thus, if this is his son - highly likely - then the most probable thing is that he died not long after this record was made because he never shows up again. There were also no grandchildren of such a son mentioned in the will, so if he was a son of Capt. Peter, which is most likely, he did not survive long enough to have children.
A son of Capt. Peter Knight who died as a young man would explain the mystery of why he apparently did not have a son named Peter mentioned in his will when, all things considered, (he was a Peter named after a Peter), he most certainly should have had a son named Peter. That he didn't has led to all kinds of genealogical fabrications in an effort to fill this puzzling gap. But it is all entirely explicable if there was a Peter JR who died as a young man and it was too late for Capt. Peter and wife to have another son named Peter.
By the time he made his will in 1702, Capt. Peter Knight listed only four children: James, Elizabeth, Leonard and Mary. He does not mention his wife, so she must have been deceased at that point. Her last appearance in the records is in 1676 when she would have been over 40 years of age so she was surely mother of all these four children. The abstract of the will is as follows and the entire will is not much more verbose!
* Peter Knight of Wiccocomoco Parish in the County of Northumberland, Gent., 28 November 1702:
* Son Leonard Knight a parcel of land bounding upon a branch of the Eastern Neck wch branch is next to his spring branch and southerly Upon the swamp and northerly upon a line of marked trees up the branch unto a marked poplar at head of the sd branch and from thence northwesterly unto a marked white oak standing in a thicket and so along to a marked red oak standing nigh the road to my house and nigh Mr Mayes path and so along his path to the head of the spring branch to Mr. Rich'd Nutts marked tree at the head of the branch and so along his marked trees southerly unto Mr Peter Presleys marked trees and so thence easterly along his line unto ye swamp and so along the swamp to the branch where it began; to him and his heirs etc.
* Son James Knight all the rest and remainder of my land to him and his heirs.
* Daughter Elizabeth Knight shall have as much land as a couple of hands can tend during her life and not to be molested with land she now lives on.
* Son Leonard Knight my silver seals and one hundred pounds of tobacco
* Daughter Elizabeth Knight one hundred pounds of tobacco to buy her a ring.
* Daughter Mary Knight one hundred pounds of tobacco to buy her a ring.
* Son James Knight my sole executor.
* Son James Knight all my personal estate to him and his heirs.
* Witness: mark of Robt R Marsh, Patrick Maley (his mark), Joan O Maley (her mark)
* This original will was presented into Northumberland County Court by John Coppedge and the book of Records wherein the same was recorded being burned with the office, on the sd Coppedge motion it is again admitted to Record. July 16th 1712.
Please notice the odd way Capt. Peter leaves a bequest to his daughter, Elizabeth. Her name is still "Knight" so one might assume that she never married, but is that the case? Could she have been the tragically afflicted daughter of Peter Knight who was married to George Knight, miller? Was she attacked in some way, and then, shortly after, lost her husband? Did those events unhinge her mind so that she required care in the way this will suggests?
OR, was the wife of George Knight actually Mary Knight who seems to be given short shrift in this will, receiving only a ring, more or less, and no provisions for her future. Perhaps that was because she was already well-set-up thanks to being the widow of George Knight the miller? If Mary was the widow, how do we explain the problem of Elizabeth in the will? The explanation that would best fit in that case would be that Elizabeth was handicapped in some way, either physically or psychologically, and Capt. Peter was making the best provisions for her that he could. And that also leaves open the possibility that Mary Knight, the wife of George Knight the miller, could have had children who were Knights, but not necessarily the same genetic line as Capt. Peter, though George may have been a distant relation.
In the end, it looks like Capt. Peter Knight and Anne Hawley had the following children who can be reasonably justified by the records:
Elizabeth b. 1660 Rec. assumed bap. gift from grandfather
James b. 1664-5 ? Or was he the eldest, born before Elizabeth?
Leonard b. 1666 Gave deposition as to his age, yet James was main heir and executor, therefore was likely the eldest.
Peter b. 1669 d. bef. 1702. This is inference/speculation based on a record.
Mary b. ? Was she born before Elizabeth?
There is also the possibility that Capt Peter Knight was the father of Anne Knight who married a Coppedge, but that is uncertain and we have no idea who the wife/mother might have been. The political situation at that time was extremely volatile and it seems to me that, based on his other activities, Capt. Peter may not have been much interested in marrying and settling down. This Anne of 1646 could also have been the daughter of any of several other Knights in Northumberland County who I suspect were related to Capt. Peter in some way.
In any event, at this point, we know some very definite things about Capt. Peter Knight and his life in Virginia, but we still cannot say with absolute certainty that he was the same Peter Knight born in St Bride's parish in 1620, and whose father died in 1629, but I think the weight of evidence suggests that he was. It is in the English records that we find some strong clues as to which families the two Peter Knights belonged. That may be as close as we will ever get.
I've touched on a number of issues of the life of Peter Knight the younger, but have only used a few of the numerous records to highlight these points, and have included a bit on the side about Peter Knight the elder as well. For the full compilation of the records of Capt. Peter Knight, go HERE.
Posted: 2019 Jan 1.
Revised 2019 Feb 5. New information.
Revised 2019 Feb 11. New information.