Did Jesus Exist?: The Historical Argument for Jesus of Nazareth, by Bart D. Ehrman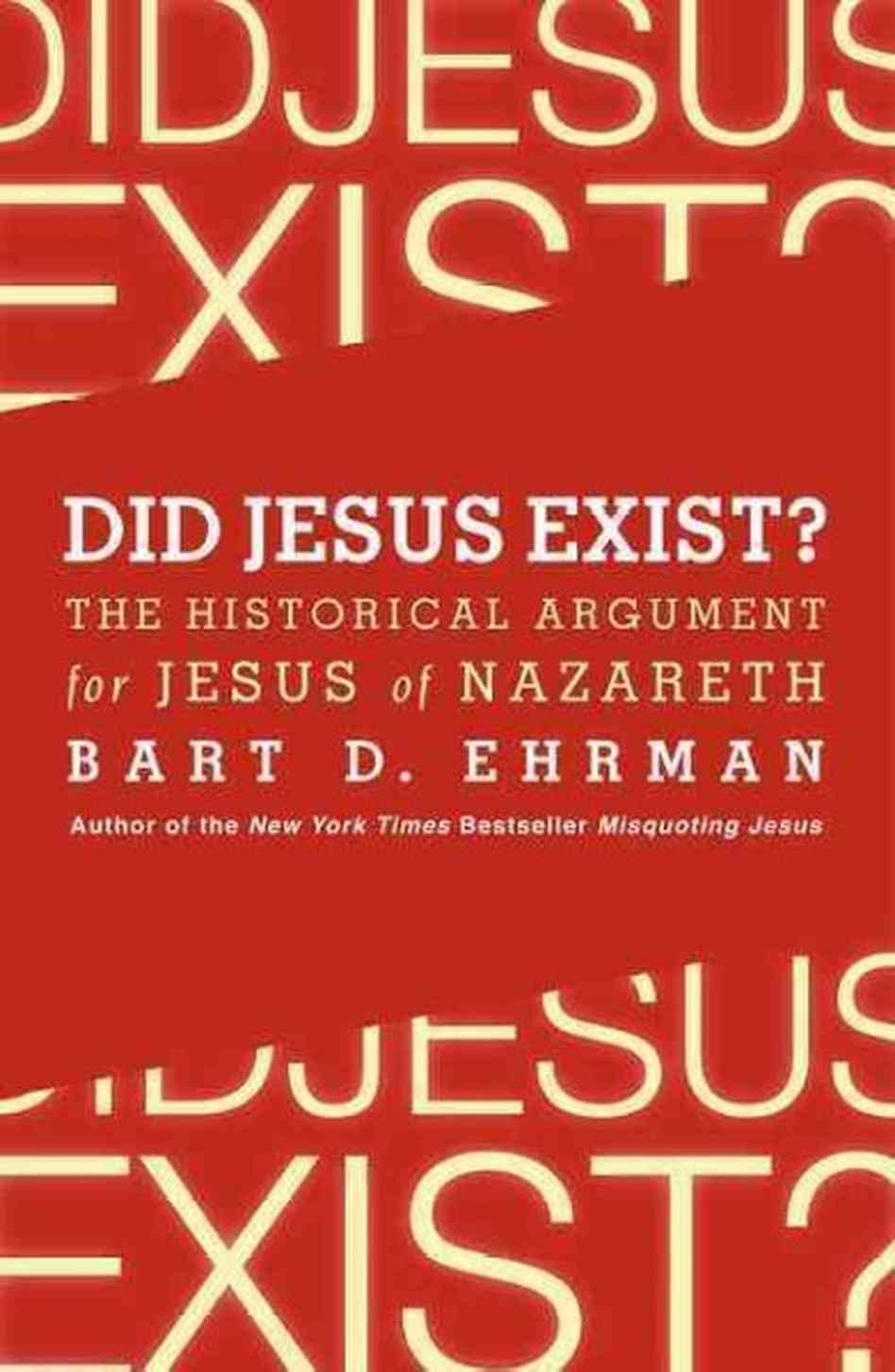 I've been a fan of Ehrman's for some time now; I have all his books, and some I have bought extra copies to give as gifts. I even recommended him highly to an online forum I participate in which gets about 3 million page views per month. Shortly after this glowing recommendation of Ehrman, his book Did Jesus Exist arrived and I began to read. Imagine my shock – turning into horror – as I read a respected New Testament scholar writing polemic like a middle school brat.
My image of Ehrman was forever shattered. I thought he really was that guy who was just after the truth, the guy who was so hurt by the unfairness of life on earth that he just couldn't stick with a god who didn't handle things better; the guy who questioned his own good luck being able to eat barbecued steak and drink fancy wines, and collect his nice paycheck which paid for his lovely lifestyle, his trips to conferences and seminars underwritten by generous academic funding (I know the life, I'm married to an academic, now professor emeritus), while so many people on the planet go to bed hungry or go to sleep on the floor because they have no bed; anyway, yeah, that guy who demonstrated such refined and elevated sensibilities with a lot of this sort of discourse sprinkled in amongst his previous books. The first thing that popped into my mind as I was reading, aghast, was that this guy was definitely showing so serious a lack of class I finally understood why he repeatedly and lovingly describes his engagement with steaks and wine and living the elegant life of an academic: that's the only thing that matters to him.
The Truth obviously doesn't matter to Ehrman either. After I moved past that embarrassing concentrated polemic against some very fine researchers (I love Robert Price, Richard Carrier and Earl Doherty), things only got worse. I suppose that if Ehrman had anything intelligent or erudite to say, it might have salvaged the book even though I would never again view him as a nice – or even ethical – individual. But that didn't happen. The errors, fallacies, failure of logic, and outright WRONG statements just piled higher and higher. I admit, I ALMOST threw the book in the trash when I read that astonishing claim that the Romans didn't keep records, but I stayed my hand so that I could keep marking up the copy with references to clear refutations of the nonsense he was spouting.
I'm serious: there were HUNDREDS of errors! What was so shocking to me was to realize that this man had no classical training, or what is known as erudition, AT ALL! There I was, recovering from a broken hip, lying on the chaise longue with the tea tray on one side and five stacks of books on the other, most of which I had read during my convalescence. Some of these books I was re-reading, like Thucydides, Tacitus, Sallust, the Plinys, Cato the Elder, Cicero, Dio Cassius, Dionysius of Halicarnassus, Josephus, Philo, etc. It just seemed like a broken hip was a good reason to do that. But additionally, I had also just completed Syme's magisterial two volume commentary on Tacitus, following on his seminal The Roman Revolution and Burkert's excellent survey of Orphism. The point is, I know a bit about classical Greece and Rome and when I read the astonishingly twisted or downright false claims Ehrman made in respect of historical facts OUTSIDE of Christianity, my heart fell into my stomach and I realized that I would have to re-think everything I had ever thought about Ehrman and his vaunted "expert status."
This book, Did Jesus Exist, is so bad, so misleading, so "not even wrong", as Pauli would have said, that I have to sadly say that its only usefulness is as an example of, as Richard Carrier says, "How Not to Defend the Historicity of Jesus"; barring that, if an ice age comes, I'll use it to start fires.
Speaking of Carrier et al, I highly recommend the book Bart Ehrman and the Quest of the Historical Jesus of Nazareth which addresses in detail (with proper scholarly references and citations), many of the horrifying failures of logic and erudition exhibited by Ehrman. A few other excellent books that anyone interested in these topics should have in the stack beside their chaise longue would be Price's The Incredible Shrinking Son of Man, The Amazing Colossal Apostle, F. C. Baur's two volume Paul, the Apostle of Jesus Christ, books by Richard Carrier and Earl Doherty, and another great find my husband made for me while searching for books to feed my voracious convalescent appetite for reading: James Tabor's Paul and Jesus: How the Apostle Transformed Christianity. The list could go on, but you can check bibliographies and footnotes for further reading.
Finally, coming back to my amazement at the incredible shrinking brain of Bart D. Ehrman, I would like to think that the nice guy I saw through his works actually exists and that what we are seeing here is some other problem, perhaps neurological. My neighbor started talking this same way some years back and within two years, she was dead. The doctor who did the autopsy said that her brain had literally melted in her skull. The reason I mention this is because maybe what is revealed here is something like early onset Alzheimer's? Maybe Bart didn't lie deliberately. Maybe he isn't acting like a complete nincompoop on purpose? Maybe he is ill and doesn't yet know it? After all, scientific studies have been done that show that the incompetent lack the insight to perceive their own incompetence; it's called the "Dunning-Kruger Effect". Maybe we are looking at something like that? Bart's mental competence has deteriorated and part of that deterioration includes an inability to even realize how bad his thinking actually is? If anyone who knows him reads this, I urge you to encourage Bart to make an appointment with a good neurologist.
Well, it's either that or the career path he has followed, that of a glorified copy-editor of a narrow selection of ancient texts, has so limited his intellectual horizons that he is suffering from a hardening of the categories. It's sad, but people like this should not be in a position of influence, and most definitely should not be teaching young people anything; he's a bad example as an academic and a human being as far as I can see from his Did Jesus Exist. Cataclysmic awfulness all the way around.